Attack On Titan 2 Announced For The Nintendo Switch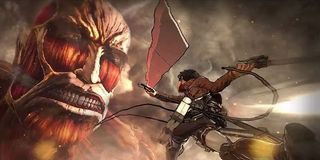 The third party love keeps rolling in for the Switch as Koei Tecmo announces that Attack on Titan 2 will be heading to Nintendo's new console and, yes, it has already been confirmed for a U.S. release.
Originally announced for the PlayStation 4, Vita and PC, it looks like Attack on Titan 2 will be swinging to yet another platform when it launches sometime early next year. This story comes to us via Gematsu following an announcement from Koei Tecmo during the recently wrapped Tokyo Game Show.
We had already seen a brief teaser for the game earlier this year but, until now, the Switch was not a part of its launch plans. We don't know if it will be a simultaneous launch with those other platforms, but we imagine the Switch now has the edge for some gamers. On Sony's platforms, you can either play AoT2 on the TV or on the go, depending which system you buy it for. With the Switch, bouncing between the two will be seamless.
In case you missed the first game, it comes from the team at Omega Force, which is responsible for all of those musou games like Dynasty Warriors and the more recent Warriors All-Stars. It should come as no surprise, then, that Attack on Titan has a lot in common with those types of games only, instead of fighting hundreds of human-sized enemies at once, you're fighting a handful of absolutely massive titans.
The original game played out a lot like the show, which is to say "Spider-Man with swords." Your job is to swing around the city and slice those titans down to size, all while managing things like your maneuvering gear's gas and the sharpness of your blades. Once you got into the flow of combat, it was kind of like a rhythm game. Omega Force took some of the ideas that worked well on the 3DS version of the game and bolted on several other options with the console version.
But while the first Attack on Titan game focused on the first season of the show, it looks like Attack on Titan 2 will carry us through the plot of the second season of the show. That's pretty good timing, since the third season is due out next year. The first game also bled into season two of the show slightly, so we're curious if this new game will at least give a few hints into season three.
According to the original announcement, players can expect more diversity with their movements, better titan movements, a "significantly increased" roster of playable characters, a more fleshed out campaign and new game modes.
We were already looking forward to this latest game in the Attack on Titan universe, so we're pretty excited to learn that it will also be making its way to the Switch.
Your Daily Blend of Entertainment News
Staff Writer for CinemaBlend.