Attack On Titan: Humanity In Chains Release Date Announced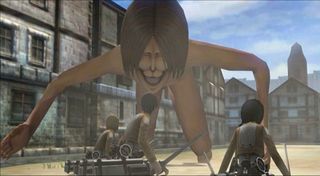 Atlus has announced that Attack on Titan: Humanity in Chains will be released on the Nintendo 3DS starting May 12th. They announced the date with a brand new trailer for the game, keeping it short and simple. You can see the game in action with the trailer below.
The press release from Atlus was spotted by All Games Beta, and they note that the game will be known in North America as Humanity in Chains, which is a slight divergence from when it originally released back in 2013 as Last Wings of Humanity over in the far east. You can catch a glimpse of additional gameplay from Spike Chunsoft's 3DS title with the Japanese trailer below.
The game is based on the popular anime of the same name – well, the same name in English. In Japan Attack on Titan is known as Shingeki no Kyojin. Atlus mentioned in the press release that for European territories the game will release as Shingeki no Kyojin: Humanity in Chains due to copyright reasons within the region.
Both European and North American gamers will receive a free Nintendo 3DS theme when they purchase the game. Unfortunately for European gamers there is no set release date on when the title will launch but expect it to arrive shortly.
For those unfamiliar with Attack on Titan, it started as a very popular manga that eventually evolved into an animated television series. It follows a group of soldiers who use what's called 3D maneuver gear – it helps them to navigate very quickly using gas-powered boosters and long-range grappling hooks. The reason for the 3D gear is to help fend off the city against an army of naked titans that eat humans. They're oftentimes led by a giant known as the Colossal Titan. The only way to kill the titans is to slice the nape on the back of their necks, otherwise they'll just keep regenerating.
The whole premise of Attack on Titan is kind of unique, as it's set during a period where weapons are somewhat primitive, with majority of the soldiers relying on cannons, swords and flintlock pistols. The time period and themes fused with the unrelenting, unforgiving and uncompromising violence has made it one of the most popular animes in recent times.
It's not surprising that the original Spike Chunsoft title that made its debut in Japan for the Nintendo 3DS would eventually find its way to North America and Europe.
It's definitely a far cry from the usual sort of games available on the Nintendo 3DS, but I'm sure gamers looking for a high-quality, action packed title for the handheld will enjoy the outing. Spike Chunsoft's title was somewhat criticized for being way too easy compared to what some hardcore fans were expecting. After playing Feng Lee's free Attack on Titan: Tribute Game made in the Unity game engine, many die-hard fanatics felt that Lee's version of the title better captured the intensity, violence and difficulty of facing off against the titans than Spike Chunsoft.
Nevertheless, North Americans will soon be able to experience Humanity in Chains on the Nintendo 3DS starting May 12th.
Your Daily Blend of Entertainment News
Staff Writer at CinemaBlend.
Your Daily Blend of Entertainment News
Thank you for signing up to CinemaBlend. You will receive a verification email shortly.
There was a problem. Please refresh the page and try again.