WWE 2K18 Is Adding A Surprising New Character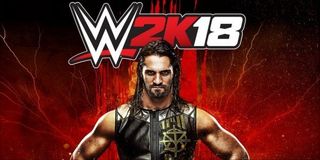 2K Games decided to go out on a limb and add a brand new character to an already packed roster of wrestlers in the upcoming WWE 2K18. The surprising new character isn't even someone you would have expected to appear in a wrestling sports game. Take a look at the announcement below:
The trailer revealing Colonel Sanders as a playable alternate of Kurt Angle was, oddly enough, posted on the KFC YouTube page. It reveals that, in addition to the American Hero and Wrestling Machine versions of Kurt Angle, you'll also be able to play Kurt as Kentucky Fried Chicken's longstanding spokesman, Colonel Sanders.
The trailer doesn't show the Colonel in action other than the customized version of Kurt Angle in the ring posing. Leading up to the revelation of Kurt Angle as the Colonel, WWE superstar Heath Slater comes in as a chicken, but ends up getting knocked out by Kurt Angle dressed as the Colonel.
According to Gamespot, we'll get our first glimpse at the Colonel in action on the YouTube channel of WWE superstar Xavier Woods, UpUpDownDown. You'll have to tune into the channel on October 12th if you want to see what the movelist is like for the fast-food spokesman. The article also notes that gamers will be able to access Sanders through the revamped Create-a-Superstar mode.
The roster in WWE 2K18 is already stacked as it is, featuring many classic superstars, current superstars, and NXT superstars.
The game features a completely overhauled graphics engine, and the team at Yukes upgraded the lighting, the shadows, the arena rendering, and even the crowds. The team also re-scanned some of the superstars in order to give them a more lifelike appearance in game.
WWE 2K18 will also feature an all new career mode where the rivalries will be a lot more layered and in-depth. One of the biggest complaints was that in WWE 2K17 the career mode had too many pointless rivalries. In this updated version you'll have friendships and enemies based on who you interact with in the backstage areas, which have also been completely overhauled compared the last game.
Players will be able to thoroughly explore all of the different areas, utilizing various objects, weapons, and environmental entities to your advantage.
New to this outing is the eight-man tag feature so that for the first time in a long time players will be able to do true Survivor Series elimination matches. Additionally, players will be able to do Royal Rumbles with eight wrestlers in the ring at a time.
WWE 2K18, featuring Kurt Angle as Colonel Sanders, is due for release on October 17th, but you can get your hands on it a few days early if you pre-order it. The game will be available for PS4, PC, Xbox One and Nintendo Switch.
Your Daily Blend of Entertainment News
Staff Writer at CinemaBlend.