New Miitomo Items Are Available In The Shop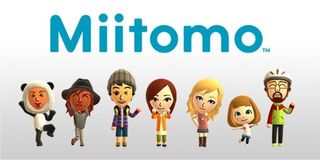 (Image credit: Nintendo)
One of the games we haven't heard much about from Nintendo is the mobile title Miitomo. The title kind of slithered out onto the market and then faded away from the news feeds for a while. Well, Nintendo is putting the game back into the spotlight thanks to the fact that it's been updated with new items that are now available in the shop.
The Japanese Nintendo news site is reporting that Nintendo has recently updated Miitomo with some brand new shop items you can purchase to outfit your Mii with.
The update features a series of new clothing and accessory items for your Mii as part of the Miitomo Shop offerings, including a Plaited Alice Band Bob Wig, which will cost you 2,680 coins if you decide to purchase it for your character. There's an all-new Denim Shirt Dress that will cost you 2,280 coins, Open-Sided Pumps for only 800 coins, and a Plaited Alice Band Bob Outfit for a rather costly 5,660 coins.
You can either purchase each of the items separately and outfit your character with these different parts by mixing and matching them with other clothes already available in your wardrobe, or you can buy the whole set and give your character a themed look based on the newly released items for the Miis.
The customization is very similar to playing dress up in games like The Sims, the only major difference here is that Miitomo is specifically themed for people who play games on mobile devices and like being able to modify and customize their characters.
Both Sony and Microsoft have dabbled in these features. Previously, Sony had the PlayStation Home, which allowed gamers to customize their characters and then go into an online lobby and then play games or just socialize. Things didn't quite work out for PlayStation Home as Sony had hoped and the company ended up canning the service. Microsoft fared slightly better with the Xbox Live Avatars, which are still going strong to this very day. Gamers can currently customize and outfit their avatars in a number of different ways, and even use those avatars in a few games. Microsoft hasn't done much with the avatars beyond that, though.
The Miitomo concept is Nintendo's evolution of the Miiverse social service, which was announced for shutdown this past summer. Players would take their Mii's into the online social hub and communicate or interact with other players. Nintendo didn't let it go to waste, though, the company ended up launching Miitomo last year for mobile devices and then later launched Miitopia for the Nintendo 3DS in late 2016. Both apps are sort of spiritual successors to the Miiverse social interaction concept.
While Nintendo's Miitomo obviously hasn't been able to catch fire and explode in popularity like Pokemon Go has for iOS and Android devices, Nintendo is still dedicated to producing new content for the title and giving mobile fans something to look forward to when it comes to dressing up the characters and showing off your fashion sense. You can grab the new clothes right now from the Miitomo cash shop.
Your Daily Blend of Entertainment News
Staff Writer at CinemaBlend.
Your Daily Blend of Entertainment News
Thank you for signing up to CinemaBlend. You will receive a verification email shortly.
There was a problem. Please refresh the page and try again.