How Call Of Duty: WWII Is Going To Try To Make You Buy Loot Boxes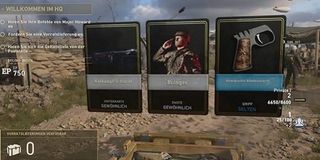 Call of Duty: WWII doesn't launch until Friday, but it looks like some folks are already playing the game. As a result, we've now caught a glimpse of how the supply drop system will work, and it looks like grabbing fresh gear of your own is intended to make other players green with envy.
Over on Eurogamer, they've come across a post on the Call of Duty: WW2 subreddit that has a brief video highlighting how supply drops will work. For starters, opening a supply drop happens in the multiplayer lobby now, a recreation of Normandy beach which can be filled with up to 48 players. When you're ready to open a crate, you call in a literal supply drop. Your crate will crash down to the beach, where you can open it in public view. But don't worry; even though your supply drop will land in a public space, other players won't be able to open it. Still, they'll get a nice gander at your loot.
The initial report states that, as a result of this, other players in the lobby will be able to see what you get out of your supply drop. If true, that raises some interesting questions about the intent of the new system in WWII. Had we not recently read about the sinister-sounding loot system Activision had a patent on but "has not used in a game," we may not have even seen this as too big of a deal. But if other players can indeed see what you're opening, it seems pretty clear that the intent is to sell more supply drops. Just the act of seeing everyone else opening loot boxes could be enough to convince some folks to drop some cash on extra boxes of their own. And if they can actually see exactly what you unlock, then we imagine the temptation is worse.
Thankfully, Sledgehammer Games has stated that supply drops carry things like weapon variants, gear variants, skins and the like. In other words, nothing in those fast-falling crates is going to give your character an edge in terms of gameplay, so the addictive hooks of "I need to buy more supply drops!" isn't as sinister as, say, the Battlefront II beta.
And again, it should probably be repeated that we're unclear on how much information other players receive. Other than the fact they can see your supply drop hit the ground, I can't find confirmation that they are able to see what loot you actually grab. I'm thinking that animating those cards for everybody would be a technical hurdle unworthy of struggling with, but it's always possible that the information can be displayed in some other way. In Destiny 2, for instance, it lets you know in the activity log when players snag some higher tier gear. Then again, you can't buy chances to get that gear in loot crates, so we're still not comparing apples and apples.
Still, no matter what the full details are concerning supply drops in CoDWWII, we figure there's only one good reason to move unlocking gear from a private menu to a public space, and that's to create a little purchasing buzz.
Your Daily Blend of Entertainment News
Staff Writer for CinemaBlend.