Here's What's Coming To Xbox Game Pass In February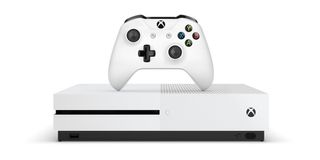 Don't think that Microsoft forgot about the Xbox Game Pass. It's the company's newest venture into pushing one step closer toward that all-digital future that we've been hearing about for the last five years. If you have the Game Pass or if you're interested in the Game Pass, you can check out what new titles are going to be available in February.
The news was rolled out over on the Xbox Newswire (opens in new tab), and Mike Nelson gave gamers the heads-up on the software lowdown for the subscription-based service.
There will be eight new games added to the Xbox Game Pass, including three sports games, two action-RPGs, an RTS, and two adventure games, including NBA 2K17, WWE 2K17, Riptide Renegade GP, Halo Wars 2, Darksiders II: Deathinitive Edition, Fable Anniversary, RiME, and Letter Quest: Grimm's Journey.
Starting in February you'll have NBA 2K17, which came out back in 2016 and featured a story mode that was directed by Hollywood heavyweight Spike Lee. The game sports 30 licensed NBA franchises, a revamped MyGM mode, and the all new cinematic MyCareer mode.
There's also WWE 2K17, which will be available for Game Pass subscribers starting February 1st. This particular entry in the long-running series was marketed for having the largest roster in WWE 2K history, featuring 130 wrestlers. A revamped backstage brawl mode was added, along with improved counters, and creation suites.
Riptide Renegade GP is a jet-ski racing title from Vector Unit, which is known for making a variety of retro-style racing games for home consoles and PC. The developer's games are reminiscent of classic titles like Jet Moto and Wave Race 64. The games also prioritize local multiplayer over online play, giving gamers an opportunity to connect and compete with friends and family.
Beyond the three sports-oriented games, there's also RiME, which came out just last year. The 3D adventure title was oftentimes compared to The Legend of Zelda thanks to its colorful and vibrant visual aesthetic and puzzle-oriented, adventure gameplay. On the PC side of things RiME ran into some troubles with Denuvo DRM, but eventually the developers got that all sorted out.
The more interesting game to join the upcoming slate of February Xbox Game Pass titles is most definitely Halo Wars 2, which actually came out just last year. The real-time strategy game didn't necessarily set the charts on fire given that RTS fans aren't known for being console gamers, but the story and characterizations helped keep the game on some Halo fans' radar.
If you were more interested in action-RPGs, both Darksiders II and Fable Anniversary have you covered. Fable definitely gives you more of that traditional role-playing experience, whereas Darksiders II has you solving puzzles, exploring dungeons, looting items and upgrading your equipment while fighting creatures from the apocalypse.
Last but not least is Letter Quest: Grimm's Journey, which is another adventure game where you have to spell words to unlock attacks and defeat enemies. It's a little bit like Scribblenauts meets Rudra. You can look for all eight games to become available as part of the Xbox Game Pass come February 1st.
Staff Writer at CinemaBlend.
Your Daily Blend of Entertainment News
Thank you for signing up to CinemaBlend. You will receive a verification email shortly.
There was a problem. Please refresh the page and try again.