When The Final Fantasy XIV: Rise Of A New Sun Update Will Arrive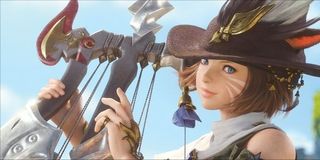 (Image credit: Square Enix)
Square Enix's Final Fantasy XIV is still trucking on years later. The game is now eight years old and still receiving new updates and content. It's a real testament to a game receiving a quality overhaul and managing to maintain its audience. Well, Square isn't done yet and the company revealed when the latest update will arrive.
According to IGN the Final Fantasy XIV: Rise of a New Sun will go live on January 30th.
The content update comes with quite of lot of new features, including the all new Omega: Sigmascape, which is the next sequence in the Omega raid series. According to the IGN article, there will be a few familiar faces from Square's classic Final Fantasy V.
The Omega raid series was first introduced last year back in the middle of 2017. It's an eight-player raid that was part of an update for Final Fantasy XIV: Stormblood, where players had to be extremely high level in order to venture through the four different floors of the Omega raid. Even accessing the raid was a real challenge given how high in level you had to be, and the number of chain quests you had to complete just to unlock the feature.
In the case of the new Omega: Sigmascape, it will open up an all-new series of quests once you complete it so that you can continue the story after defeating one of the Four Lords. From there, you'll be able to dive back into a main quest line featuring the Beast Tribe, which will also unlock additional items and gear to acquire so you can further customize your character (as if your character won't already be decked out from head-to-head while being level 300 or so).
But it's not all about the questing business. The Final Fantasy XIV: Rise of the Sun update also adds an all-new PvP ruleset with an all-new map, so those of you who enjoy testing your might against other players can do so in the new map.
There's also a new housing update for those of you who enjoy playing house with your friends and expanding the residential areas with new decorations and designs.
The housing update for Final Fantasy XIV originally was put into place way back in 2013, with the Lodestone update. So it's been five years since the houses originally were introduced, and Square has had plenty of time to continue to refine the feature over the years.
The original release of Final Fantasy XIV didn't go over too well, and Square had to completely retool the whole game from top to bottom under the hood, and then eventually re-released it as Final Fantasy XIV: Reborn. The "rebirth" of the game managed to attract back the original players and then some, becoming a rather well-rounded MMORPG that has lasted over the years. Sure, it's not World of Warcraft big but it's big enough to be sustainable, and Square Enix doesn't seem to be slowing down now that the latest update is set to launch on January 30th.
Staff Writer at CinemaBlend.
Your Daily Blend of Entertainment News
Thank you for signing up to CinemaBlend. You will receive a verification email shortly.
There was a problem. Please refresh the page and try again.