Sea Of Thieves Final Beta Is Now Playable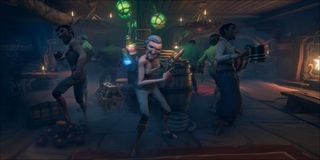 (Image credit: Microsoft)
Rare and Microsoft have finally done it. The final beta for Sea of Thieves ahead of the game's official release later this month is currently playable for Windows 10 users or Xbox One gamers. Absolutely anyone can download and play the final open beta for Sea of Thieves right now.
The news went live over on the official Sea of Thieves website, where it was announced that all you'll need is a Windows Live account to play the game on PC, whereas you'll need an Xbox Live Gold account if you want to play Sea of Thieves on Xbox One.
This final beta test will allow gamers to experience the Merchant Alliance quests, where players will attempt to take on voyages and complete the tasks set before them by the Merchant quest givers after creating their character. Previously, the game focused on finding and retrieving treasure with your small band of pirate crew members.
The addition of the Merchant Alliance isn't the only new thing featured in the final beta. Rare also announced that they have added an all new emergent element to the game in the form of the Skeleton Fort. This will be available for gamers who want to explore beyond the given quests that will be rolled out from the Merchants.
Of course, you'll need to utilize some keen navigational wits and check out the skull clouds to know exactly where the great rewards will be present, along with the high-risk factor of taking on the enemy NPCs.
The Sea of Thieves beta will also feature special Xbox One X enhancements for those of you who decide to take a gander on Xbox instead of PC. The enhancements include sharper textures and resolutions that support up to 4K rendering output on the Xbox One X. There is no mention of whether or not you can choose between higher resolution and smoother frame-rates, but maybe that's something you can check on once you download the final beta.
And, speaking of downloads... the beta clocks in at a rather thick 19.67GB. That's a hefty ask for those of you who have limited space on your home console or PC. So make sure that you free up space before you take the plunge.
The best part about this final beta test is that, unlike the other alpha tests and the closed beta tests, you can share and spread the media wealth with your friends and family. Yes, DVR support is enabled for the Sea of Thieves beta, so you can record your gaming sessions and post them online to your heart's content without worrying about NDAs or embargos.
You'll only have the weekend to make good on this free test, though. The beta runs from Friday, March 9th through Sunday, March 11th at 10:00am GMT. So, be sure to work fast or start downloading it now if you want to play it throughout Saturday uninterrupted.
The full version of Sea of Thieves is due for release on March 20th for the Xbox One and Windows 10 for PC. Pre-orders are currently available for the game right now.
Your Daily Blend of Entertainment News
Staff Writer at CinemaBlend.