Lugia Is Back In Pokemon Go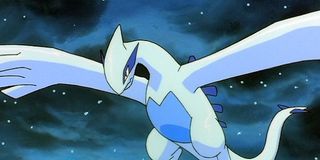 Pokemon Go fans who missed out on Lugia, as well as those who simply want to add another legendary Pokemon to their collection, will want to log on and hit the streets in the coming weeks. Niantic has announced that the fan-favorite Lugia has returned to the game for a limited time.
The insanely popular mobile game, Pokemon Go, is still going strong nearly two years after it first hit Android and iOS. Sure, there have been a couple of controversies along the way involving botched events and players who maybe weren't making great decisions, but the community keeps coming back to the game thanks to regularly occurring promotions and a rotating roster of legendary Pokemon.
And as of this weekend, Lugia has made its triumphant return to Pokemon Go, which is sure to excite fans new and old alike. Based on an update from Gamespot, Lugia will be up for grabs until April 2, which means you've only got a couple of weeks to train up and challenge him with friends in battle.
Just like all of the other legendary critters in Pokemon Go, you'll only be able to snag Lugia as a Raid boss in gyms spread throughout the game. Apparently, this latest version of Lugia will boast a new Sky Attack move but, again, it sounds like players will have to experience it for themselves if they want to find out what it does.
Obviously, you aren't expected to take down Lugia on your own. Players will get to team up on the brute as a team and, once defeated, everyone will have a chance to make a capture. If the odds are in your favor, you could be walking away with a Lugia of your own. Otherwise, you'll want to keep your eye out for additional Raid opportunities. For those who had trouble catching Lugia in Pokemon Go the last time around, the developer has stated that a capture should be a bit easier in the coming weeks.
As an added note from Niantic, the game's next Community Day is right around the corner, taking place on March 25. These events only take place in a brief window, this time running from 11 a.m. to 2 p.m. PT. During these events, players can keep their eye out for a specific Pokemon who will sport an exclusive move, making them more rare, and potentially useful, than their standard counterparts. Bulbasaur has been announced at the upcoming featured Pokemon, though no word yet on what will be his exclusive move.
Pokemon Go may not pull down the number of players it did at launch, but it sounds like the game is still plenty active nearly two years later. Combine that with Niantic's upcoming Harry Potter game, and we figure the developer is going to be very, very busy heading into the future.
Your Daily Blend of Entertainment News
Staff Writer for CinemaBlend.