Lego Marvel Super Heroes New DLC Adds Cloak And Dagger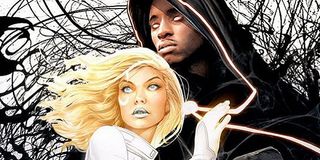 The Lego Marvel Super Heroes 2 adventure keeps on growing with a bunch of new characters and a new level from Cloak & Dagger being plugged into the game via DLC.
A less mainstream dynamic duo from Marvel comics, Cloak & Dagger is the latest superhero property to get the television treatment. It feels like promotions for the show have been running forever at this point but, come June 7, the new series will finally premiere on Freeform. This latest DLC is meant to celebrate the show's impending arrival.
According to an announcement from Warner Bros. Interactive Entertainment, the new level's plot kicks off shortly after the titular characters gain their superpowers, with Cloak being able to control the element of darkness and Dagger being able to bend light to her will. You'll battle your way through a bunch of superpowered henchmen and solve puzzles on a quest to escape a top secret facility.
Once you complete the level, you'll gain access to a whole bunch of new characters, all of which you can use freely within LMSH2. These latest additions to the cast include Cloak and Dagger, obviously, as well as Mister Negative, Blackout, Shroud, Nightmare and Silvermane. Those go on top of a roster totaling more than 200 characters, which is impressive in and of itself. Also worth noting is that Mister Negative is a major villain in the upcoming Spider-Man game exclusive to the PlayStation 4.
If you feel like picking up LMSH2's season pass, the whole shebang will set you back $14.99. Otherwise, you can grab the Cloak & Dagger pack by itself for $2.99 on the PlayStation 4, Xbox One or Nintendo Switch. Considering most games charge a good five bucks for a single new playable character, that's certainly not a bad deal. As for the season pass, it includes levels and playable characters from Guardians of the Galaxy, Thor and, most recently, Black Panther. We figure there's going to be something special for Infinity War next month, but WBIE hasn't confirmed anything just yet. We also wouldn't be surprised to see some special Ant-Man and Wasp content once that movie arrives this summer.
Still, even without those potential future sets, it kind of goes without saying that Lego Marvel Super Heroes 2 is a bit of a behemoth. The core game already offers an adventure spanning multiple Marvel universes and time periods, combining more characters than the movies could ever hope to bring together. Also, that cast is insanely large, and most characters offer a pretty unique style of play. If you're looking to fill that Lego Dimensions-shaped hole in your heart, this Marvel-focused smorgasbord might just do the trick.
Your Daily Blend of Entertainment News
Staff Writer for CinemaBlend.