How To Get Free Cards In Hearthstone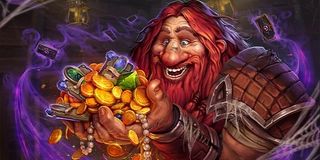 The latest expansion is set to arrive in Hearthstone next month. And to celebrate, Blizzard is offering players a whole bunch of free cards. Even better is the fact that all you have to do to claim them is play the game and unlock some achievements.
Over on the Hearthstone blog, the team has announced that the Year of the Raven is set to kick off in April alongside the launch of the new game expansion, The Witchwood. To ring in the new year, Blizzard is offering a "Celebraven" event that, while unfortunately named, means players can earn themselves quite a few new cards to bolster their decks.
While the Witchwood expandsion is set to go live in Hearthstone in mid-April, the set's promotional event kicks off at 11:59 p.m. PDT on March 26 and runs through the same time on April 9. During that time, each time you complete a daily quest, you will be granted a free pack of cards. As a special note, the "play a friend" quest has been deactivated during the special event and will re-enter rotation once April 10 rolls around.
In other words, that means you can snag yourself at least 15 free packs of cards in Hearthstone. Blizzard has even gone the extra mile to make sure players get the most out of their free packs, removing any restrictions from how those free pack tokens are spent. You can immediately claim packs from Journey to Un'Goro, Knights of the Frozen Throne or Kobolds and Catacombs, or you can wait until the Witchwood expansion arrives in Hearthstone and use to earn cards from the brand new set.
For those of you who are looking to add even more cards to your Hearthstone library, there's also a pre-order promotion live in the game right now. If you boot up the game and decide to pre-purchase 50 packs of the new cards, then Blizzard will give you an additional 20 packs at no extra cost. That's a pretty sweet deal if you're the type of person who already planned on buying a whole bunch of packs to get your adventures in Witchwood rolling.
Finally, for those of you who want to know more about the cards, Blizzard is planning to host a live card reveal event on Monday, March 26, beginning at 11 a.m. PDT. They invite players to "bear witness to spooky new cards," though we're not certain if that will include the entire deck just yet. Still, whatever they reveal should give players a good idea of what to expect from the new set, as well as help everyone start learning new abilities and planning new decks nice and early.
We haven't been back to Hearthstone in a while, so we'd definitely be interested in hearing what you diehard players think of the game at this point. Has Blizzard kept the magic alive? Are you excited for this new set? Share your thoughts in the comments below.
Your Daily Blend of Entertainment News
Staff Writer for CinemaBlend.