Nintendo Switch Pro Controller Now Has Steam Support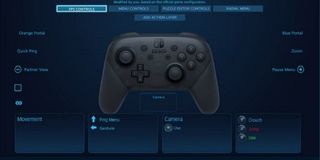 It has taken a year, but it sounds like the folks at Steam have finally unlocked the mysteries of the Nintendo Switch Pro Controller. While still in a testing phase at the moment, full support for the device is now available on Valve's gaming service.
A recent post over on the Steam blog confirms that the Switch controller can now be used with your favorite PC games like Portal 2 and Rocket League, though the functionality isn't quite ready for prime time. If you want to have early access to the Switch Pro Controller support, you're going to need to opt into the Steam Client Beta in order to get the ball rolling. We'll get to that in just a moment.
This is pretty exciting news for folks who want to use their Switch controller on PC. When the Switch first launched, it came hand-in-hand with a Pro Controller for folks who prefer the idea of using a more traditional gaming setup. Folks were initially shocked, not just because Nintendo made a controller that looks more like what you see on the Xbox One or PlayStation 4, but because they actually made a really, really good controller. The D-pad is solid, the buttons aren't too spongy, the triggers feel comfortable, the vibration is solid and the ergonomics are great.
So since Nintendo made a pretty great controller, folks obviously wanted to use it on Steam, just like they can with their favorite Xbox and PlayStation controllers. The controller is fantastic for playing games like Breath of the Wild and Super Mario Odyssey, so it stands to reason it would be a nice fit for Team Fortress 2 or even PUBG for the PC crowd that prefers a controller over mouse and keyboard.
It's taken a while, but it looks like the Steam crew has nearly completed its work, making the Pro Controller available through the beta program. You can opt into the service from the original link, then all you have to do is check the option for "Nintendo Switch Configuration Support" in the Controller Settings page. Full instructions for getting installing and pairing your Switch controller are listed on the site, complete with helpful images to guide you through the process.
Once you've got everything taken care of, you can press the controller's Home button to bring up the overlay and tool around with your configurations on the play. It sounds great but, according to the comments, it's not perfect yet. Obviously, that's why it's still in beta. Players are reporting issues like weak rumble or no rumble at all in some games, while others are having technical issues getting the controller ready to roll. Others, though, seem to be cruising along nicely and are reporting on their success.
I've heard a lot of folks talk about how much they love the Switch Pro Controller, so it's great news that everyone can now enjoy the controller while gaming on Steam.
Your Daily Blend of Entertainment News
Staff Writer for CinemaBlend.