Why Square Enix Is Shutting Down The 'Go' Series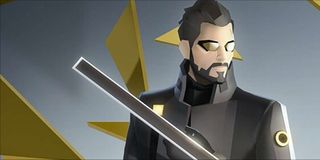 (Image credit: Square Enix)
One of the game series that managed to find itself with a rather sizable audience is Square Enix's Go games, based on popular franchises like Tomb Raider and Hitman. However, it appears as if those games are coming to an end, as the landscape of mobile gaming is shifting once more.
In an interview with PC Games Insider (via Polygon) Square Enix Montreal studio head, Patrick Naud, explained that the Square Enix Go games will be brought to an end and shut down. Naud told the outlet...
As pointed out by Polygon, after the success of Lara Croft Go, along with Hitman Go and Deus Ex Go, the series has stopped. The last outing was back in 2016, more than two years ago. But as mentioned by Naud, the landscape of mobile gaming has changed, and that premium-priced goods are no longer quite as in vogue as free-to-play games.
Square Enix's mobile offerings come with fixed price tags, where gamers buy them once to own them. This has also been the kind of model that Nintendo adopted for many of its mobile entries because the company said that it didn't want to diminish its brands by making lots of cash-shop oriented games that are free-to-play and buffered with lots of microtransactions. Nintendo felt that style of game could devalue its brands.
Square Enix is taking a different approach to the matter. The company sees the mobile market as a lucrative venture, but wants to focus on games that speak to the mobile audience. Hence, the Go series has proven to be a business venture not worth the price of entry, but the company will continue to consider and explore different mobile options for the portable market.
The Go series originally got off to a strong start back in 2014 with Hitman Go, which was an isometric diorama puzzle game, where players would need to navigate through the diorama to complete the hits. Square then followed it up with Lara Croft Go, which was another isometric puzzle game, working very similar to Hitman Go, only that you solved puzzles and attempted to overcome the enemy obstacles along the way. The game was also ported to the PC and PS4.
Deus Ex Go was also worked in a similar manner to the other two games, but it didn't quite receive the praise or media attention as outings like Lara Croft Go. The tepid response in addition to more popular free-to-play mobile games flooding the market made Square Enix think that the approach to mobile games needs to change, hence the culling of the Go series.
There doesn't appear to be any obvious replacement just yet, but Square still plans on supporting mobile outings with a variety of games, we'll just have to wait to find out what the company has in store.
Your Daily Blend of Entertainment News
Staff Writer at CinemaBlend.