Super Smash Bros. Ultimate Will Contain Every Character In The History Of The Franchise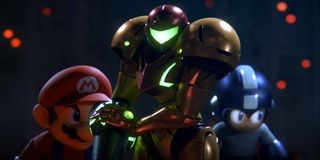 (Image credit: Nintendo)
The one game that everyone who owns a Switch (and even a lot of people who don't) has been chattering and talking nonstop about is Super Smash Bros. All before the reveal, gamers couldn't help but hype themselves up over the big release for the Switch. Well, the reveal finally came and it rolled out some huge news, including that every single past character from Super Smash Bros will appear in Super Smash Bros. Ultimate. The news had gamers leaping off their seats like children on a sugar high.
The big reveal also clocks in at nearly half an hour. That's right, half an hour. The entire thing was published over on the Nintendo YouTube channel, where it goes through the list of changes made to nearly every major character in the game, from Mario to Peach, and from Samus to Fox. Nintendo of America president, Reggie Fils-Aime, explained...
Old fan favorites like Wolf are coming back, along with all the DLC characters from the Wii U version of Super Smash Bros., and other third-party characters such as Pac-Man, Mega Man, and Solid Snake from Metal Gear Solid.
The Nintendo Direct also dropped a bomb in the form of Ridley from the Metroid series. For those of you who don't know, Ridley is Samus' arch rival and an extremely dangerous foe who has pushed the bounty hunter to her absolute limits. Gamers will now be able to play Ridley for the very first time.
Additionally, new epsilon versions of characters will be available, which are basically alternate playable versions of certain characters that have new moves and play-styles. For instance, Daisy is now joining the Super Smash Bros. roster for the very first time and she will be playable as an alternate of Princess Peach.
All new trophies are being added, and all new gameplay mechanics have been added, including a brand new counterattack system based around a "perfect" shield block. As you block, your shield diminishes, but for players who are excelled in timing, there's an ability to use the perfect shield block to parry a move and launch a counterattack. This could be a game-changer during FGC e-sports tournaments, especially given how it creates an all new meta game for Super Smash Bros. Ultimate when it comes to defensive mechanics and counter-moves.
What's more is that all of the previous modes from the older Super Smash Bros., are coming back, including the eight-player free-for-all. Stage variations have been added, stage destruction has been added, and 1-on-1 modes have been retooled to be a lot more competitive and tactical.
That's not to mention that the Inklings from Splatoon have also joined the fray, and you can use the original GameCube controllers for the game for those of you who preferred the control scheme from Super Smash Bros. Melee. You can check out the full presentation below:
Super Smash Bros. Ultimate is due out later this year, exclusively for the Nintendo Switch, beginning December 7th, 2018.
Your Daily Blend of Entertainment News
Staff Writer at CinemaBlend.
Your Daily Blend of Entertainment News
Thank you for signing up to CinemaBlend. You will receive a verification email shortly.
There was a problem. Please refresh the page and try again.