Ant-Man And The Wasp Join LEGO Marvel Super Heroes 2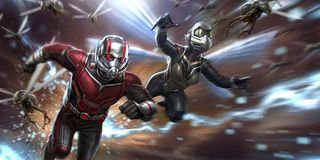 With Ant-Man and the Wasp set to launch in theaters this weekend, the dynamic, miniscule duo is also set to infest the world of LEGO Marvel Super Heroes 2. From pint-sized antics to massive showdowns, get ready to play through a whole new story level, take control of new characters and break more bricks than you can shake a subatomic particle at.
With LEGO Marvel Super Heroes 2 launching last year, Warner Bros. Interactive Entertainment made sure to capitalized on every movie and television tie-in imaginable in the months that followed. From Black Panther to Cloak and Dagger, The Avengers and beyond, just about every Marvel property has found its way into the game. The same goes for the upcoming Ant-Man and The Wasp, which hits theaters this Friday, July 6.
According to a press release from Warner Bros., this pack will set you back $2.99, or it comes included with the game's season pass. The prime attraction is a new game level inspired by the film, which takes place within Hank Pym's "forgotten research lab." How long do you have to be a scientist before you start forgetting some of your labs even exist?
Anyway, Pym's former nemesis, Egghead, has hatched an evil plan that includes oodles of henchmen to smash and, I kid you not, a giant mech chicken.
Even though there are already hundreds of characters already available in LEGO Marvel Super Heroes 2, this new DLC will grant access to several more. These include Ant-Man from the movie, the Hope van Dyne version of Wasp, Egghead, Crossfire, Stinger, The Human Fly, Giant-Ma and the film's main baddie, Ghost.
If you've been enjoying LMSH2 this past year, it sounds like everything you've come to expect out of the game has been packed into this latest DLC. Again, that's all on top of an already massive offering of levels and characters featuring Marvel heroes and villains from across time and different dimensions. After you complete the main campaign and work your way through the DLC adventures, just think of it as a massive toy box in which to play with your 200-plus action figures.
If you decide to go for the season pass instead of the individual DLC packs, that'll include the content listed above, as well as properties like Guardians of the Galaxy Vol. 2 and The Runaways, all for $14.99. That's across all platforms, including the PlayStation 4, Xbox One, Nintendo Switch and PC.
And on that note, we'd love to hear from any of our readers who have kept current on all these content packs. Is it worth it to grab the season pass or are there some individual packs you'd recommend everyone grab instead? Feel free to share your thoughts in the comments below.
Your Daily Blend of Entertainment News
Staff Writer for CinemaBlend.