LEGO Marvel Super Heroes 2 Adds Infinity War DLC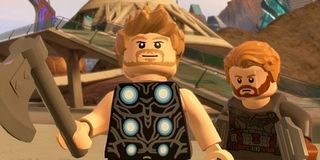 Keeping pace with the silver screen blockbusters, LEGO Marvel Super Heroes 2 is bringing all of the action and adventure of Avengers: Infinity War to a console near you. Only, you know, as LEGO characters.
With Infinity War hitting theaters next Friday, April 27, Warner Bros. Interactive Entertainment is bringing the locales and characters of the film to LEGO Marvel Super Heroes 2 (opens in new tab) around the same time. You'll be able to get your hands on the latest DLC next week for $2.99, or included in the game's DLC Season Pass.
If you're worried about plot spoilers, you can rest assured knowing the game won't ruin the movie, especially since you're only playing through one large level and a bit of story that, as far as we can tell, isn't actually a part of the film. You'll actually be taking on the role of Thanos in the DLC, controlling his army as you invade Attilan, the home of Black Bolt and his Inhumans. You'll fight all over Attilan and eventually make your way to Black Bolt's own throne room.
See? Nothing to be worried about in the spoiler department. As for unlockable characters, you'll also get your hands on Corvus Glaive, Cull Obsidian, Proxima Midnight, Ebony Maw, Hulkbuster 2.0 and Groot. Since the game's roster already includes more than 200 characters, we figure these latest additions will help keep you nice and busy for a while, or at least until the Infinity War movie itself launches next Friday.
If you haven't played the core game yet, LMSH2 is actually a pretty rad romp through the history of Marvel comics. You'll follow a story across multiple dimensions and timelines, battling baddies as they try to unleash their usual sinister plans on the world. Again, there's a huge roster of characters, only made more impressive by all of the DLC additions. And this is a LEGO game, so you can obviously expect more goofiness and humor than grim-dark fate of the universe fare.
As for all of that DLC, WBIE has pretty much had an answer to every major Marvel moment in recent history, including films like Guardians of the Galaxy 2 and Black Panther, as well as TV shows like Runaways and Cloak & Dagger. There's a pretty ridiculous amount of content at this point and, just in case you're curious, the full pass will set you back $14.99.
We're not surprised to learn that the Infinity War DLC seems to be keeping a safe distance, narratively speaking, from the film. Marvel/Disney has been pretty protective with this one, and we doubt they were even willing to let the crew of this game tie-in see the movie or script in advance. Still, beating the stuffing out of a bunch of Inhumans as Thanos and his pals sounds like a nice alternative.
Your Daily Blend of Entertainment News
Staff Writer for CinemaBlend.