Watch A Choir Of 145 Perform The Civilization 4 Theme Song On America's Got Talent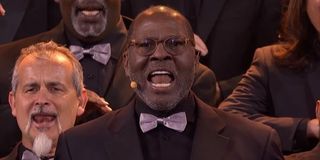 The Civilization IV theme, "Baba Yetu," has earned quite a bit of notoriety over the years, as one of the few video games to break into the mainstream. Most recently, a massive choir performed the award-winning song as part of America's Got Talent. The choir consists of nearly 150 singers coming from all walks of life, which is basically a perfect fit considering the fact that the Civilization series is all about cultures from across the world learning and growing as a global community.
The song recently resurfaced on America's Got Talent, where it was performed by the Angel City Chorale. This group boasts 145 members and, according to the pre-performance banter, they are from all walks of life. The choir prides itself on embracing every race, religion, sexual orientation and, yes, even political party. The guest judge for the evening was Olivia Munn who, while starring in various movies and television shows these days, used to be involved with the video games industry. In fact, back in 2005, Munn was likely still co-hosting the popular daily G4 program, Attack of the Show, with Kevin Pereira. It kind of makes you wonder if maybe the group was playing to the judge's favor by incorporating a video game song. If that's the case, then their efforts paid off, as Munn went on to award the group with the coveted Golden Buzzer.
The judges were clearly impressed, with nobody daring to give the group an "X" during their performance. Honestly, it's almost a bit unfair, as we're talking about a large number of very talented individuals combining their voices to make some beautiful music. Yodeling Gary from Arkansas will have an understandably difficult time going toe to toe with a performance like that. Munn was so impressed that she gave the group the best reaction possible, a Golden Buzzer trip directly to the live show.
Way back in 2005, Civilization IV was one of the first games to gain widespread notoriety outside of its own industry thanks to its impressive theme song. Sure, just about anyone can hum the tune to Super Mario Bros. or Tetris, but neither of those songs was nominated for a Grammy. In fact, "Baba Yetu" was the first song from a video game to earn that distinction and, taking it one step further, it went on to actually win its category. In the following years, "Baba Yetu" was presented at many noteworthy performances and has also popped up at smaller choir performances and has even been incorporated into marching band routines.
The Angel City Chorale is actually a pretty interesting group, with members ranging in age from 19 to 88. Even cooler is the fact that they don't just stand there and merely sing this beautiful song. Instead, they incorporate some eye-catching choreography and even a brief bit of prop work.
There's only one way the Angel City Chorale could follow this inspirational performance: By covering the theme from Katamari Damacy.
Your Daily Blend of Entertainment News
Staff Writer for CinemaBlend.