Overwatch Reveals New Summer Games Skins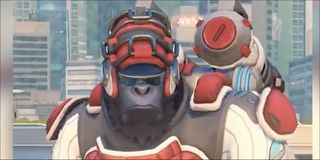 A new annual tradition has been added to the Overwatch compendium of content. The developers have been experimenting with new content, new modes, and new events in order to lure in new gamers and keep current fans satisfied. Blizzard Entertainment recently unveiled that one of the popular events from previous years is making a return in the form of the Overwatch Summer Games, and for this year's event the company unveiled all-new Summer Games skins for some of the characters.
The official Overwatch Twitter account posted up a number of short video clips showcasing the new skins for the characters in Overwatch as part of the Summer Games, which will run between August 9th and August 30th. This includes clips like the one above that reveals D. Va's new Legendary Waveracer skin for her and her mech. The skin is probably bringing back some fond memories to N64 gamers who enjoyed the Waverace racing game from more than 20 years ago.
D.Va is decked out in swimwear with pink shorts, a life jacket, and her hair all tied up. The mech has a baby blue livery with white paint and matching-blue floral designs scattered about.
Other characters like Winston are decked out to match a futuristic baseball aesthetic, complete with fusion-powered ball launchers on his back, replacing the typical jetpacks. Winston replaces his glasses with some multi-colored shades, and dons an umpire's mask over his baseball armor.
Blizzard also rolled out another video featuring a lacrosse-themed version of Roadhog, looking more like an armored boss villain from a game than a sports player.
This ties into the recent announcement that the Summer Games were coming back. Originally Blizzard debuted the feature as part of the celebration for the Olympic Games back in 2016 when they were being held in Rio De Janeiro, Brazil.
Blizzard added a number of new costumes to the game, including some for the main character Tracer and for the speedy rollerblader Lucio. The team also added a brand new game mode to Overwatch in the form of a soccer mini-game for Lucio players.
The original Summer Games character skins are back along with the brand new skins, and the fan-favorite game modes.
Basically, the company seems to keep introducing new Summer Games skins for Overwatch characters each year, giving fans a reason to dip back into the game and see what's new for some of their favorite avatars.
The event will get underway in just a couple of days, and it will run all throughout August for Xbox One, PS4 and PC gamers. It would probably be wise to hop into the game and partake in the event before it wraps up because you'll likely have to wait another year before you can take advantage of the Overwatch event again.
Staff Writer at CinemaBlend.
Your Daily Blend of Entertainment News
Thank you for signing up to CinemaBlend. You will receive a verification email shortly.
There was a problem. Please refresh the page and try again.