Blizzard is Celebrating 20 Years Of StarCraft With Lots Of Free Stuff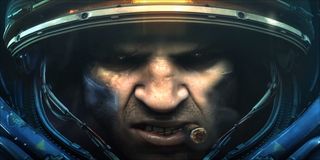 (Image credit: Blizzard Entertainment)
RTS fans may feel as if they're being left out of the loop due to Blizzard focusing more on pumping out content for Heroes of the Storm, Hearthstone, and Overwatch, but Blizzard hasn't forgotten about its roots steeped in the RTS genre. In fact, the company is celebrating 20 years of StarCraft with lots of free stuff.
Over on the official StarCraft website, Blizzard announced that there will be plenty of free goodies handed out to loyal StarCraft fans as part of the 20th-anniversary celebration. Starting March 6th you'll be able to receive a brand new 20th anniversary UI skin for StarCraft: Remastered, and all new UI skins, a new portrait and a new decal for StarCraft II.
For Diablo III you'll receive a new Dominion Revenge pet, just by logging into the game after March 6th. A very, very special skin will also be included in Overwatch between March 6th and April 3rd for fans of Widowmaker. She'll receive a Sarah Kerrigan skin from back when she was a Ghost, before she was turned into the xenomorph Queen of Blades.
Don't worry, though, if you're a World of Warcraft fan or Heroes of the Storm fan, there's also something special for you, too. If you salute a StarCraft-themed pet in World of Warcraft you'll receive a Feat of Strength between March 31st and April 6th. It won't last long so you'll have to work fast. For Heroes of the Storm, you'll receive a Protoss, Terran or Zerg portrait if you log into the game between March 27th and April 7th.
Last but not least is a card pack for Kobolds & Catacombs if you participate in a Tavern Brawl within Hearthstone between March 21st and March 25th.
There will also be video featurettes released throughout March as well, including a special anniversary stream on March 30th and a celebration video on March 31st.
Blizzard actually has a separate video up now recounting how the first entry in the sci-fi, real-time strategy saga launched back in 1998. It then gives a quick recap of StarCraft: Brood Wars, which came out just a year later in 1999. It wasn't until more than a decade later that StarCraft II launched. Three years later the company then released the expansion Heart of the Swarm, where Kerrigan had taken over the Zergs and became the Queen of Blades. The saga came to an end with Legacy of the Void in 2015.
Basically, if you play StarCraft or enjoy the lore and you want to get some free goodies in Blizzard's other range of games, you can essentially log into the other titles between March and April to pick up some rewards.
This goes to show that Blizzard most certainly knows how to make long-lasting franchises that people love. It's a shame that the company hasn't shown as much love for other franchises like Blackthorne or The Lost Vikings, but maybe those will get proper reboots sometime in the near future?
For now, you can spend the next month picking up new skins, new portraits, and new decals from the StarCraft franchise.
Your Daily Blend of Entertainment News
Staff Writer at CinemaBlend.