New Overwatch Animated Short Is All About D.Va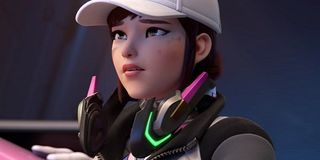 Overwatch's pro gamer-turned-operative finally has her own short film, with the tale of D.Va now available for your viewing pleasure. The team manages to cram a heck of a lot of information into seven minutes of footage, giving us a better idea of who D.Va is, what drives her and why she's involved with Overwatch.
The video, called "Shooting Star," begins as a glitz and glamor feature on the "esports champion turned ace pilot," D.Va. Next comes a nice contrast, showing D.Va. as she really is, a grease-smeared mechanic who eats junk food and is more concerned with improving her mech than going out and partying. The video takes a dramatic turn next, offering plenty of world-building, exposition and explosive action sequences. Obviously, I'll leave the best stuff for you to discover yourself.
This is only the latest in a series of similar backstory videos featuring Overwatch characters, giving viewers a better look at characters like Bastion, Mei and the rest of the gang. It's the kind of detail you would expect from a (really well animated) single player campaign but, since Overwatch is a multiplayer-focused game, is lacking from the main package. Still, these videos, comics and additional story beats being offered through other mediums are a decent compromise.
I don't want to understate the quality of this video. They do some solid storytelling here and, again, everything looks great. At this point, I half expected the clip to end with a banner proclaiming "Full series coming next spring to Netflix."
And honestly, why not strike while the iron is hot with either a series or film? Overwatch is only growing in popularity, with millions of people playing the game and the professional esport gearing up for its second season. Outside of Fortnite, it's pretty much the biggest show in town.
As for the latest news, it looks like Blizzard is gearing up to launch a brand new map, too, called Busan. Like D.Va., the map hails from South Korea and looks to boast a collection of distinct areas that should make for some interesting gameplay. You can actually play the map now on the test server, but we expect it to enjoy a wide release as part of the Control playlist in the near future.
And while Overwatch already has a lot of physical goodies on the market, Gamescom has gifted us with a reveal of the officially licensed Overwatch playsets from LEGO, meaning you'll soon be able to stage your own miniature, blocky battles.
Here's an idea, and Blizzard can feel totally free to run with it: LEGO Overwatch. If you don't want to bolt a campaign onto your own game, why not let the LEGO folks take care of business with their trademark quality, humor and charm? Anyway, something to think about.
Staff Writer for CinemaBlend.
Your Daily Blend of Entertainment News
Thank you for signing up to CinemaBlend. You will receive a verification email shortly.
There was a problem. Please refresh the page and try again.