Counter-Strike: Global Offensive Now Has A Free Offline Version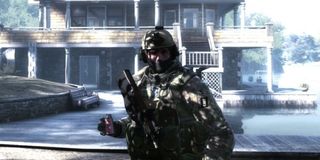 (Image credit: Valve)
When it comes to playing games online there's usually a group of gamers who feel slighted that some online-only games don't have offline modes. It's a common complaint you see from many gamers, because there is definitely some truth to the effect of online games eventually shutting down and taking all of the player progress with it. Many gamers (and even organizations like the EFF) have been championing for solutions to provide gamers with offline modes for online-only titles, especially MMOs and MOFPS titles. In a rare case of trying to give gamers what they want, Valve decided to actually give the first-person shooting community a taste of Counter-Strike: Global Offensive without having to pay a dime for it. Yes, there's actually a free offline version of the first-person shooter that's been made available for gamers.
PCGamer is reporting that the free offline version of Counter-Strike: Global Offensive is available for download over on the Steam store. In fact, if you head to the store you'll note that there's a giant green "Install Game" button available for you to press, where you can download the offline version of Counter-Strike: Global Offensive to play against bots, or even spectate games through the GOTV.
The game has been out since 2012, and has managed to move millions of copies across Steam. It's also one of the most played games on Steam, averaging around 280,000 players a day, peaking at 450,000 players a day, and having a top reach of 850,000 players, according to SteamCharts.
Valve even ported the game to home consoles as well, including the Xbox 360 and PS3, bringing the total sales to well above tens of millions of copies.
I suppose for Valve it's okay to give away an offline version of the game for free because the company has made so much money on the product already that there isn't really much of a loss for supplying games with offline modes where gamers can get in some practice time against bots.
I imagine the hook here is that much like free trial weekends or demo modes in other games, most gamers who play Counter-Strike: Global Offensive will get hooked playing against the bots and then want to test their skills online against other players. The full edition of the game is just a click away, and it's priced at the very affordable $14.99 mark.
This will enable players to take advantage of skill groups, online matchmaking, in-game inventories, XP, ranked matches, and full voice chat support. Of course, if you live in Belgium or the Netherlands you won't be able to make use of the loot boxes featured in the game due to the laws prohibiting premium loot boxes in those regions, but otherwise the price of entry will gain you full access to the whole game.
It is worth noting that outlets like PCGamer had to inform gamers of this news because there is no overt entry on the Steam page for Counter-Strike: Global Offensive. It's odd that Valve made the change to offer gamers a free offline mode (something not available for many other online-only shooters such as Sudden Attack or Operation 7) but didn't formally announce it on the game's page. Anyway, it's free and I guess that's all that matters... right?
Staff Writer at CinemaBlend.
Your Daily Blend of Entertainment News
Thank you for signing up to CinemaBlend. You will receive a verification email shortly.
There was a problem. Please refresh the page and try again.