The Nintendo Switch Is Getting A Crazy Number Of Final Fantasy Games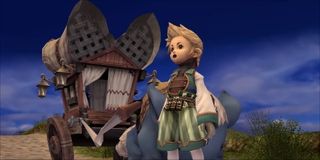 (Image credit: Square Enix)
Today, most gamers know that Square Enix has a healthy library of role-playing games across a variety of systems. However, way back in the day Square used to focus solely on making JRPGs for Nintendo's platforms... that is, until the PlayStation One came along and offered Square an opportunity to make much larger games than what could be contained on a cartridge. Since then Square and Nintendo never quite rekindled the relationship that they once had back in the late 1980s and 1990s, but with the latest Nintendo Direct it looks like the two game makers want to bring back all the fans of yesteryear by dumping tons of Final Fantasy games onto the Nintendo Switch.
The September 13th edition of the Nintendo Direct featured nearly 40 minutes worth of content. Near the end of the Direct it was revealed that Final Fantasy Crystal Chronicles Remastered will be making its way to the Nintendo Switch. The original game came out for the Nintendo GameCube and had a companion app for the Game Boy Advance so that players could use their Game Boy to play the GameCube version.
The highlight here is that you don't need three additional Game Boy Advance systems to take part in the action-RPG multiplayer antics. Square and Nintendo have worked together so that now you can use a combination of Joy-Con controllers or third-party peripherals to join in on the multiplayer fun. The developers have also implemented online multiplayer for up to four players, so even if you don't have anyone to play with locally, you can also play with others online over the new Nintendo Network. The remastered edition of the game will launch at some point in 2019.
But, it doesn't end with Final Fantasy Crystal Chronicles Remastered. Square is also bringing other Final Fantasy games to the table, including Final Fantasy XV Pocket Edition HD for the Nintendo Switch.
It's a smaller, less graphically intensive version of Final Fantasy XV, and it's already available for the Nintendo Switch right now.
There's also World of Final Fantasy Maxima, which will also make its way to the Switch, featuring classic turn-based combat and set to launch on November 6th this fall. The game originally came out for PS4 and mobile devices a couple of years ago, so the Switch is a little late to the party, but better late than never.
Another game added to the list is Chocobo's Mystery Dungeon Every Buddy, which is an isometric dungeon crawling game featuring playable Chocobo. The game is scheduled to release this winter.
If you missed out on Final Fantasy XII: The Zodiac Age, the game is set to make its debut on the Nintendo Switch for the very first time in 2019. It will feature the brand new fast-forward function that will allow you to speed through the game.
It doesn't end there, though, there's also Final Fantasy VII, Final Fantasy IX, Final Fantasy X and Final Fantasy X-2: HD Remaster, all set to release on the Nintendo Switch as well. All of the games will be released throughout 2019, so if you're a fan of Final Fantasy there's going to be plenty of it made available on the Switch next year.
Staff Writer at CinemaBlend.
Your Daily Blend of Entertainment News
Thank you for signing up to CinemaBlend. You will receive a verification email shortly.
There was a problem. Please refresh the page and try again.