Fortnite Will Be Playable On Switch Without Nintendo Online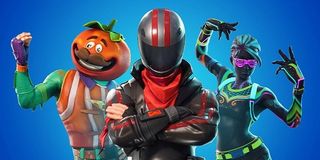 It looks like not every single title will require a Switch Online subscription to actually enjoy online multiplayer action, with Nintendo revealing that Fortnite will still be playable for everyone even if you aren't forking over $20 a year. We figure the game's extreme popularity and free-to-play nature are the reasons behind Nintendo's willingness to bend their own rules a little bit here, making sure anyone who wants to play Fortnite can continue doing so on the Switch without additional restrictions.
The folks over at Polygon have picked up on an interesting note in the Nintendo Switch Online FAQ that makes it clear not every online game will require a subscription to the service, which was previously thought to be the case. As the item points out, you will need to have a Switch Online subscription to play games like Splatoon 2, Mario Kart 8 and the upcoming Super Smash Bros. online. However, it clarifies that some games, "such as Fortnite," will be available for online play whether you subscribe or not.
On the one hand, Fortnite is already an extremely popular game on the Nintendo Switch, earning some additional goodwill thanks to the fact that it is part of the cross-play party alongside pretty much every other platform that isn't PlayStation 4. Since a lot of the game's fans are youngsters whose parents might not be too keen on setting up a Switch Online subscription specifically for that game, not requiring it for Fortnite is a good way to make sure Nintendo's active audience doesn't take a nosedive when the online service finally rolls out next week.
Similarly, Fortnite is already a free-to-play game, and it would be difficult for Epic to keep making that claim if players had to cough up subscription funds to Nintendo's online program to keep playing. Nintendo also gets a cut from sales made on Fortnite's cosmetic items, so it was probably considered mutually beneficial to leave games like Fortnite the hell alone.
Another popular free-to-play game, Arena of Valor, is set to go live on the Switch soon, so it'll be interesting to see if that title is also included in the same camp as Fortnite. It's another game that costs nothing upfront, but gets its continual stream of income thanks to cosmetic items and payments for in-game heroes. It's the biggest mobile game on the planet right now, so it's probably safe to assume it'll be a hit on the Switch as well. Similar to Fortnite, it would probably be in Nintendo's best interest to keep additional financial hurdles out of fans' way.
Still, I can't help but wonder why Nintendo or Epic hasn't made a bigger headline out of this news. Including it as part of a FAQ is nice, but you'd think it would be in the company's best interest to let suspicious players know, point blank, they can keep playing the game without paying a Switch Online subscription.
And speaking of that subscription, remember that it goes live on Tuesday, September 18. For $20 a year, you gain access to online gaming, cloud saves, upcoming special offers, and access to a collection of NES classics.
Staff Writer for CinemaBlend.
Your Daily Blend of Entertainment News
Thank you for signing up to CinemaBlend. You will receive a verification email shortly.
There was a problem. Please refresh the page and try again.