The Nintendo Switch Online Service Will Launch With These 20 Classic Games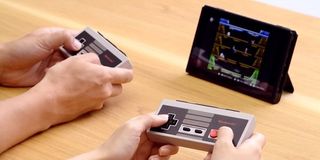 When the Nintendo Switch Online service goes live next week, it'll include 20 classic NES games for subscribers to enjoy, complete with online multiplayer support. On top of that, another nine games will be made available through the service before 2018 draws to a close and, for those who really want an old-school experience, special NES controllers will soon launch for the Nintendo Switch.
Nintendo rolled out a metric ton of news during this week's Direct video presentation, giving viewers a quick look at a whole bunch of games launching for the 3DS and Nintendo Switch. They also dished some final details for the Online Service, including the full list of 20 games that will be included in its starting roster.
Those games include Soccer, Super Mario Bros., The Legend of Zelda, Ghosts'n Goblins, Excitebike, Tennis, Balloon Fight, Super Mario Bros. 3, Tecmo Bowl, Yoshi, Donkey Kong, Ice Climber, Double Dragon, Gradius, Ice Hockey, Mario Bros., Dr. Mario, River City Ransom, Pro Wrestling and Baseball. Again, so long as you subscribe to the Switch Online Service ($20 bucks annually), you'll have unlimited access to that collection of games, complete with online multiplayer functionality thrown in for good measure. It's a solid list, too, including a little something for everyone. There are sports games, a couple OG beat-em-ups, platformers, scrolling shooters and even the first game in the Zelda series.
Watching the direct, it looks like all of these games will be available through a single application, so you won't need to download them individually. That also means your library won't suddenly become littered with 20 NES icons, which is fantastic news.
As Nintendo has noted in the past, additional games will be added to the service over time. In fact, they've announced the next nine games that will be added to the service, all coming by the end of the year. Those include Solomon's Key, NES Open and Dodgeball in October, Metroid, Mighty Bomb Jack and TwinBee in November and Wario's Woods, Ninja Gaiden and Adventures of Lolo in December. There's no telling if Nintendo will keep that pace up, but that's certainly a solid start. There's also no word on whether or not other platforms will eventually join the service, but we figure there are only so many NES games to choose from, right?
Also announced during the Direct was a new set of NES controllers. Designed to look and feel like the classic controllers, you can buy a two-pack for $59.99. These bad boys communicate with the Switch wirelessly and even slide into the console just like the Joy-cons for charging. Of course, if you're not looking to spend any extra cash right now, those Joy-cons also function just fine with the NES games, though you'll be using an analog stick instead of a D-pad.
Your Daily Blend of Entertainment News
Staff Writer for CinemaBlend.