Fortnite Weapons Are Being Made By Nerf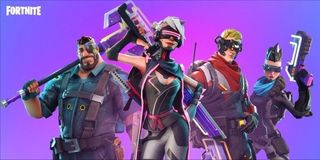 It seems like everywhere you go there's some news about Fortnite. If it's not in the news feeds it's people with their head down in their phones chatting about the game, or people on the couch playing it with their friends. Well, soon you'll start to see people out in the real world playing Fortnite with Nerf guns.
Yes, Nerf will be making a selection of projectile-powered toys based on the weapons featured in Epic Games' Fortnite. This comes from a new deal that Epic Games has signed with Hasbro, where a number of new toys inspired by the popular Battle Royale game will be made, in addition to the upcoming Monopoly game based on Fortnite.
There will be a variety of blaster weapons from Nerf, including the Fortnite AR-L Blaster, which is set to release on June 1st next year for $49.99 over on the Hasbro Toyshop website or at local retailers. The yellow blaster comes with a 10-dart clip, along with 20 additional ELITE darts that you can use to equip within the AR-L Blaster. You will need four AA batteries to make use of the device.
Unlike a lot of the other Nerf weapons, the AR-L Blaster looks a lot like the SCAR-H, which is a real-life gun you may have seen in games like Call of Duty or the Battlefield games set during modern times. The color, however, is clearly set to ensure that no one mistakes the weapon for being a real one. It has an all yellow base with the iron sights being painted black, along with the shoulder stock and the handle. The trigger is orange, along with the barrel tip, which is also colored completely in orange, so no one can think the toy gun is anything other than a toy.
Unfortunately, there's no accompanying video footage, so there's no way to know how well it operates in action, but if you're a fan of Fortnite and your parents tell you to go outside and play, you'll soon be able to grab your AR-L and play some real-life Fortnite and take down opponents.
I'm almost shocked there weren't announcements for miniature amusement parks where you can go and actually play some competitive Battle Royale in real life using Nerf guns. Of course, a real-life version would also lack the appeal of being able to build things like in the actual Fortnite game. A large part of why people love the game so much is because of all the building and destruction, so it's kind of a step down in real life if you can't build up forts just to tear them down.
However, if you feel like playing a little bit of the deathmatch portions of Fortnite in real-life without actually hurting anyone, you can do so with the Nerf AR-L Blaster come early 2019.
It appears as if Fortnite is expanding beyond the realm of electronic entertainment and into the realm of board games, and now it's stretching out into the realm of Nerf toys.
I don't know how many gamers will be willing to plop down $49.99 for a Nerf toy gun, but if it's a sign of things to come, then we can expect a lot more toys and gear based on the popular free-to-play game.
Your Daily Blend of Entertainment News
Staff Writer at CinemaBlend.