EA May Make Its Own Free-To-Play Battle Royale Game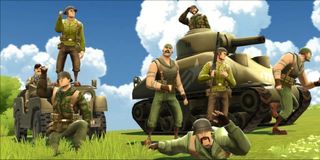 (Image credit: Electronic Arts)
The Battle Royale genre has exploded in the last couple of years. What started as a popular pastime in the modding scene of games like Garry's Mod and Arma, ended up expanding into the realm of the survival simulators that gained mainstream attraction thanks to DayZ and Rust. The mode branched out from there, becoming its very own standalone thanks to releases like The Culling and Last Man Standing. Eventually, Battle Royale turned into a mainstream success when PlayerUnknown's Battlegrounds and Fortnite took off in 2017, and now that EA has seen just how widespread the sub-genre is, the company could be looking into making its very own free-to-play Battle Royale game.
During an investor call [via GamesIndustry.biz] it's being reported that EA is not opposed to cross-platform playability in Battlefield V following the success of the feature in other games like Fortnite, and that -- in the same vein as Fortnite -- the company may not be opposed to developing its own free-to-play Battle Royale game. During the most recent conference call, EA's CFO, Blake Jorgensen, addressed a question from a caller about whether or not EA would be looking into building out a standalone Battle Royale game in the free-to-play market, saying...
As noted before in other pieces about the first-person shooter, Battlefield V does feature a Battle Royale mode, but it's tucked away inside the game alongside the other modes.
It also doesn't sound as if the Battle Royale mode is EA's top priority with the upcoming first-person shooter, considering that the Grand Operations mode is the one that has been receiving a lot of tender love and care from the developers in order to be ready day and date for the release this October.
However, EA is likely keeping an eye on the Battle Royale sub-genre and monitoring the success companies like PUBG Corporation, and Epic Games are garnering from the highly popular games, Fortnite and PlayerUnknown's Battlegrounds.
There is a risk of over-saturating the market and diminishing interest in the Battle Royale concept. Activision and Treyarch are also focusing on a Battle Royale mode in Call of Duty: Black Ops 4, which may or may not be a big hit for the company.
But a free-to-play Battle Royale game from EA is definitely not off the table. The company was quick to cash in on the free-to-play craze during the mid-to-late aughts with a series of free-to-play titles based on its most popular brands, including games like The Sims, and Need For Speed World, and Battlefield: Play 4 Free. There was even a third-person, cartoony shooter based on Battlefield called Battlefield Heroes, which was sort of a precursor to Fortnite's aesthetic.
Technically had EA not shut down Battlefield Heroes the game could have been retrofitted with a Battle Royale mode and could have been made to compete with Fortnite. But who knows? Maybe next year that's one of the things on the publisher's docket, and we'll see the franchise dive back into the cartoony shooter genre to compete with Epic Games and PUBG Corporation for market dominance in the Battle Royale space.
Your Daily Blend of Entertainment News
Staff Writer at CinemaBlend.