Mark Strong Joins Battlefield V In NSFW Video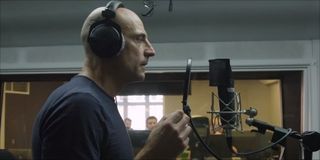 The time for getting gamers on board the fall season welcome wagon is fully underway. Companies like EA and Activision are going all out to lure in as many potential consumers as possible, including bringing in known Hollywood actors in order to appeal to the masses... sort of like Mark Strong joining the Battlefield V promotional campaign to help put more eyes on the game.
In preparation for a big reveal of the single-player mode in Battlefield V, DICE posted a teaser over on the official Battlefield Twitter account, announcing that "Mark Strong is ready."
The minute and a half video features Mark Strong, with the first 12 seconds being nothing more than Strong warming up his voice by dropping lots of 'F' bombs while telling the player to play the objective.
The expletive-laced warm-up prefaces a quick introduction to Mark asking about his motivation for the narration, which he basically sums up as the "Voice of God."
Despite it being a behind-the-scenes clip and being only a minute and a half long, it's actually rather fascinating. We get some glimpses into the audio direction given to Strong as he rattles off his lines in a number of different ways, and he even plays around with humming the Battlefield theme song.
It's only at the end of the clip -- around the minute and 10 second mark -- do we get a taste of what Strong's narration will be like in the full version of Battlefield V, as he puts on his serious voice and we get clips of the game's single-player campaign mode.
We see a couple of the characters in action, including a soldier about to take a shot but he ends up having his gun lowered by his partner. There's also a clip showcasing the aerial combat, which looks like a crazy collection of intense mid-air dogfighting.
All the clips will apparently be compiled and showcased in an actual full-length trailer for Battlefield V. The clips from the campaign mode relate to what's called War Stories. These were first introduced in Battlefield 1, where instead of having a streamlined campaign mode following a single story, it was a collection of stories featuring different soldiers from different regions, telling what their experience was like during the war. It was a huge departure from the typical campaign modes that had been featured in most first-person shooters up to that point, especially the more heroic, blockbuster-stories gamers were used to from Call of Duty or Medal of Honor.
For Battlefield V, there will be a collection of several new War Stories, following different groups of soldiers and resistance fighters across the war front. The new trailer drops tomorrow, but Battlefield V doesn't launch for the PS4, Xbox One or PC until November 20th.
Staff Writer at CinemaBlend.
Your Daily Blend of Entertainment News
Thank you for signing up to CinemaBlend. You will receive a verification email shortly.
There was a problem. Please refresh the page and try again.