Fortnite Monopoly Is Coming In October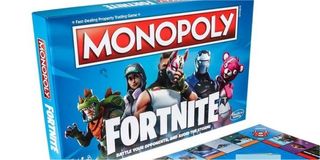 Every major property gets tie-in products. When they get popular enough, people always want more and it turns into a quest to make as many different products as you can to satisfy the masses. For instance, Mario Kart 8 had a Happy Meal tie-in with McDonald's. There are onesies based on the Teenage Mutant Ninja Turtles. The Coalition recently joined up with Funko Pop for some Gears Pop! products. And now Epic Games has managed to join with one of the most recognized board game makers around in order to create a version of Monopoly based on the very popular (and still growing) Battle Royale game, Fortnite.
Worldwide creative director at Epic Games, Donald Mustard, informed the gaming community at large via a tweet that the Fortnite version of Monopoly will be available during the fall starting next month on October 1st.
This is definitely a departure from the game's third-person, interactive entertainment roots on home consoles, PC and mobile devices. There, you grab a character, a character skin, and some weapons and attempt to blast your opponents into smithereens using a variety of weapons. Instead of requiring an electronic device to get in on the game you just whip out the physical board game, lay the mat on a table, gather your friends and family around, and then you can fight over which of the pieces you want to play as.
Actually, scratch that last part. Your pieces in the game aren't actually traditional Monopoly pieces. Instead of having a shoe or a hat or a thimble, you will have player cards. Yes, the pieces are being replaced with character cards based on some of the more popular skins from Fortnite's ever-so-popular Battle Royale mode.
The character cards feature a number of skins from the different Seasons of the third-person shooter, with many familiar faces making an appearance.
Additionally, the properties that you typically purchase in Monopoly have been done away with. The properties now are based around the different locations sprinkled throughout the very large and very accommodating map of Epic Games' third-person shooter. This includes places like the Tilted Towers, Tomato Town or the Lazy Links. Also instead of passing GO and getting $200, you now get 2HP every time you manage to cross the board and pass GO.
I don't know how well the appeal from the game will carry over into a separate board game product, but it's nice to see that Epic Games is definitely taking the interest in the Fortnite property seriously and trying to tap as many different demographics as possible.
There was no price attached to the board game, but since its due for release next month you'll likely find participating retailers posting the price online soon enough. It might even be a hot Black Friday item when November rolls around. Fortnite is available right now for PS4, Xbox One, PC, Nintendo Switch, and Mobile devices.
Your Daily Blend of Entertainment News
Staff Writer at CinemaBlend.