Lady Gaga Is Apparently A Secret Gamer Girl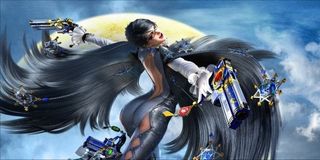 (Image credit: Platinum Games)
Just because someone is a celebrity doesn't mean they don't have some geeky pastimes. A number of different celebs not only star in video games, they also play them regularly. Apparently the mega popstar Lady Gaga is one of those secret gamer girls who actually plays quite a bit in her downtime.
Yes, the news about Lady Gaga being a secret gamer girl comes directly from... Lady Gaga herself. She posted the news via her official Twitter account. It doesn't seem like the sort of necktie-and-suit response that a PR team might have crafted to score some loyalty points among fans. It comes across as someone who genuinely is enjoying their time with Platinum Games' Bayonetta and wanted to share the news with their fans.
Most of Lady Gaga's followers have no idea who or what Bayonetta is, though, as she typically caters to a demographic more interested in other subject matters -- rather than how to score a 100-hit combo while keeping your aerial dodge game intact. Most of the responses from her avid followers are asking "What is this?" and "What game is that?" That kind of shows just how in-tune they are to the world of hardcore gaming.
Actual gamers (who apparently don't follow Lady Gaga often or watch her concerts) began suggesting that she cosplay as Bayonetta at some point. This is where the cross-section of Lady Gaga fans and hardcore gamers came about, because gamers suggested Lady Gaga make a costume made entirely of human hair to mimic Bayonetta's ability to turn her hair into a costume. Gaga's fans posted screenshots of the musical artist literally donning a costume on stage made entirely of ... hair.
It's funny to see two disparate communities come together over something they probably didn't think they would have in common.
Some gamers began suggesting Lady Gaga take up a game or two of Epic Games' Fortnite, which did not receive the best of responses from some of her followers. Nintendo also chimed in, giving Lady Gaga encouragement to keep battling through Chapter V in Platinum Games' Bayonetta. You might be wondering why Nintendo would be in Lady Gaga's timeline, but it's because the company now publishes the Bayonetta game series for its hardware, with Bayonetta 3 set to release for the Nintendo Switch.
Lady Gaga joins a few other celebrities who also regularly dabble in hardcore -- including Superman himself, Henry Cavill. Yes, Henry Cavill is a hardcore gamer, and he's also starring in an upcoming game from RSI and CIG; it's just a little something-something you might have heard of in the form of Star Citizen. Cavill is also taking his love of gaming to the small screen in the form of playing Geralt of Rivia, a character who became popular thanks to CD Projekt Red's Witcher trilogy.
Heck, who knows, maybe we'll see Lady Gaga collaborating with Platinum and Nintendo in the future for something Bayonetta related? Possibly? One can hope.
Your Daily Blend of Entertainment News
Staff Writer at CinemaBlend.