An NHL Team Just Banned Its Players From Playing Fortnite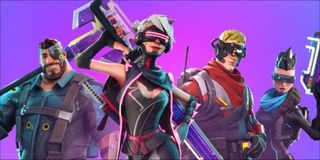 (Image credit: Epic Games)
Apparently, playing Fortnite is almost the equivalent of a crime in certain occupations. Some employers absolutely hate how much the game has taken over the lives of some of their employees, and have actually banned them from engaging with the game. While this might make sense if we're talking about White House staff, Secret Service agents, or anyone working in the Department of Justice, the current big villain of Epic Games' Battle Royale third-person shooter is actually the NHL. Yes, the NHL. It turns out that an NHL team just banned its players from playing Fortnite. How could such an innocent and colorful game cause such a ruckus to get hit with the ban-hammer from an official sports team? Well, the reason for the ban isn't because of what you might be thinking.
According to a report from The Province, the Canucks are banning video games while on road trips. This is a team-wide decision, affecting every player while they're out on the road traveling. The article explains that the idea was first discussed by Michael Del Zotto during the training camp sessions, but the idea didn't arise again until recently.
During a radio interview, Canucks player Bowie William "Bo" Horvat told TSN 1040 that it was decided that the team should abandon video games while on the road, and in particular that the team would be giving up Fortnite. So, why are they giving up gaming while on the road? Horvat said that it was about building camaraderie with the other teammates, and that it's difficult to do that while engorged eye-deep in your cellphone playing Fortnite or trapped in a hotel room playing the game on a laptop or other portable gaming device like the Nintendo Switch...
Ouch.
I'm sure the feelings aren't mutual at Epic Games.
Fortnite has been the bread and butter for the company in ways unimaginable by most people. It makes hundreds of millions of dollars each month, and has turned Epic Games valuation around with huge numbers, making it one of the most profitable independent video game companies in existence.
Some other sports superstars, such as those in the WWE, seem to love Fortnite. In fact, WWE's Xavier Woods runs a video game channel on YouTube called UpUpDownDown, and given that the guys and gals spend so much time on the road they usually opt to play games when they aren't training or wrestling.
Even still, the Canucks feel as if the team could better bond with one another without the game getting in the way. If they feel that way, who is anyone to disagree with them? Especially if it helps them to play better.
Your Daily Blend of Entertainment News
Staff Writer at CinemaBlend.