When Obi-Wan Kenobi Is Coming To Star Wars: Battlefront II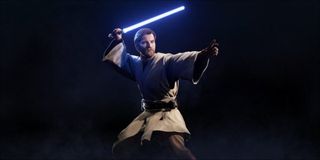 (Image credit: Electronic Arts)
Even though Star Wars: Battlefront II came out last year in the fall, it's still being regularly updated with new content from DICE and Electronic Arts. Surprisingly, one of the brand's most popular characters hasn't been implemented into the game, but EA and DICE revealed when he's coming.
According to a post over on the official Star Wars Battlefront II website, you'll be able to play as Obi-Wan Kenobi starting November 28th.
Kenobi won't be arriving alone, as he's coming with content reinforcements in the form of the Battle of Geonosis update. This will bring Geonosis to DICE's vision of Star Wars: Battlefront II for the first time.
As noted in the post, the characters in the game are modeled after the likenesses of the real life actors, which is why Kenobi is themed after real-life actor Ewan McGregor, in the same way that the upcoming release of Anakin Skywalker will be modeled after Hayden Christensen.
Kenobi will arrive with his blue lightsaber, along with a fighting style themed around defensive combat. This means that Kenobi's blocking ability is more reliable than other Jedi and Sith on the roster. He can also make use of his stamina to chain together melee attacks.
According to DICE, the idea was to portray the version of Kenobi when he was general of the 212th Attack Battalion.
In addition to being able to defend against blaster fire and other attacks, Obi-Wan also comes with the Restrictive Mind Trick Ability, which prevents his opponents from using their abilities for a short time, which includes their ability to dodge. They're basically sitting ducks when caught with this ability while out in the open. It's a great way to disrupt the enemy with Kenobi in Battlefront II.
He also has access to the All-Out Push, which is similar to Skywalker's push, but DICE made it where his push is more focused and the longer you hold down the button the longer the range is on the push.
Kenobi will launch with his default Jedi Master appearance on November 28th, but he will receive his robed appearance and general's garb at a later date, both of which will be available for credits or crystals.
It's kind of interesting that Kenobi is only just now arriving along with Anakin Skywalker, especially a year after release. Then again, EA and DICE were dealing with the loot box scandal for Star Wars: Battlefront II, which severely impacted the game's performance on the market and the perception that gamers had of the game for the longest. The loot box scandal even managed to garner international attention and cause gambling commissions and the government to get involved.
Now that EA is mostly past that stage with Battlefront II, the company is focused mostly on retaining its audience and producing content for the game. This included adding characters like General Grievous, and that update is being followed up with the addition of the Geonosis map and Obi-Wan Kenobi. You can look for Anakin Skywalker to appear in the game in early 2019.
Staff Writer at CinemaBlend.
Your Daily Blend of Entertainment News
Thank you for signing up to CinemaBlend. You will receive a verification email shortly.
There was a problem. Please refresh the page and try again.