Bethesda Is Offering Free Virtual Currency To People Who Bought Fallout 76's Power Armor Edition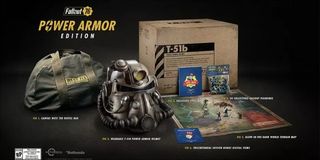 (Image credit: Bethesda)
There's trouble brewing in the wasteland. Gamers who pre-ordered the Fallout 76: Power Armor Edition for $200 have been complaining about a pretty serious issue regarding an item that didn't appear with their purchase. Bethesda, however, decided to offer free in-game currency as compensation.
Polygon is reporting that Bethesda is offering 500 Atoms worth of in-game currency to those who purchased the special Power Armor Edition for Fallout 76. That comes out to about $4.99 worth of in-game currency. This is compensation for those who received the special edition of the game but found out that one of the items that was advertised in the package did not arrive as advertised.
Originally the package was supposed to arrive with a specially marked T-51b box, an exclusive steelcase, 24 collectible Fallout-themed figurines, several digital items, and a glow-in-the-dark terrain map, along with a wearable T-51b Power Armor helmet and a Canvas West Tek duffel bag for you to carry it in. However, the last item did not arrive as advertised. Instead of receiving the Canvas West Tek duffel bag, gamers received a cheap nylon bag.
Those who purchased the special collector's edition of the game reached out to Bethesda's customer support and inquire why the West Tek bag was replaced with a nylon bag. Bethesda's customer support responded saying that the bag advertised on the store pages of Target, Walmart, Best Buy, and Amazon were not available and that they had to send out nylon bags.
Others escalated their case to Bethesda's Gear Store, specializing in items specifically purchased from the Bethesda store. However, Bethesda's Gear Store support claimed that the advertised duffel bag in the Armor Edition images contained a prototype bag that was "too expensive" to include in the final product, so it was replaced with a nylon bag.
Bethesda, however, attempted to clear up what the support staff said by claiming that it was actually an availability issue, telling Polygon...
Bethesda proceeded to tweet out that those who purchased the Fallout 76:Power Armor Edition can contact customer support if they still have a receipt, and receive the 500 Atoms in-game currency as a bonus for not receiving the advertised product.
The issue definitely gained a lot of traction online and across social media, compounding the current issues that have carried over from the B.E.T.A. This definitely doesn't bode well for Bethesda, given that some gamers have already been spreading the word about a law firm that claimed to be investigating Bethesda for refusing refunds for the digital purchases of Fallout 76.
It appears Bethesda is now running damage control for Fallout 76 and the issue surrounding the duffel bag. Will gamers let it go and continue on playing the game, or will they escalate things to push for a false advertising case? For now Bethesda seems content on offering gamers who feel cheated 500 Atoms worth of in-game cash as a form of compensation.
Your Daily Blend of Entertainment News
Staff Writer at CinemaBlend.