Grand Theft Auto Creators File For Maximum Damages From Cheat Maker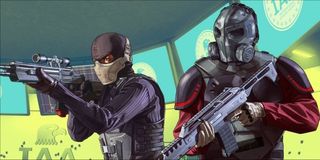 (Image credit: Take-Two Interactive)
Cheaters are really coming under the hammer of scrutiny in recent times. Creating cheats is big business, but those cheats can disrupt the business of big business. This is why companies like Epic Games and now Rockstar are cracking down on cheat makers.
Torrent Freak is reporting that Rockstar's parent company, Take-Two Interactive, is coming down hard on cheat makers who have released cheat tools for Grand Theft Auto Online, the online multiplayer component for GTA V.
A court claim was filed against the creator of a cheat tool called "Elusive." It allows players to cheat in the online portion of the game, causing chaos and mischief beyond the control of Rockstar Games. In order to put an end to the cheat tool, and send a message to anyone who dares make such a tool, Take-Two is suing the creators for $150,000.
According to Torrent Freak, the maker of the tool is a certain Johnny Perez from Florida. And Take-Two's reasoning behind the suit is that the tool is being used to "grief" other players and to sell a product on the back of Take-Two's property, which the company labeled as "free riding."
Beyond that, the other issue is that Take-Two claimed that the "Elusive" cheat tool disrupts gameplay within GTA Online and that it creates discord for the "carefully orchestrated" gameplay that Rockstar and Take-Two have devised for the game.
"Elusive" is a paid tool and you do have to dump up to $30 into the coffers of the creator in order to use it online.
What's interesting is that before going for the maximum statutory damages of $150,000, Take-Two originally sought to reach a settlement with Perez. So why didn't Perez settle? Well, Take-Two wanted detailed records of all of Perez's personal finances and his financial history, so that it could determine how to reach a settlement. Perez failed to respond and stopped communicating with Take-Two, so the company decided to go for the jugular to set an example.
Take-Two is also requesting that Perez pay up to $70,000 in attorney's fees and that he no longer participate in "infringing activities."
So if Perez was using this as a way to pay for living expenses, it could all go kaput if the court finds itself in favor of Take-Two.
This isn't the first time a big publisher has gone after a cheater, though. Epic Games also attempted to sue a Fortnite player for distributing a cheat tool, even though the person the company was suing was only 14-years-old.
Take-Two also attempted to go after mod makers in the past as well, claiming that tools used to mod the single-player could be used to cheat in multiplayer. That little stunt cost Rockstar and Take-Two a lot of goodwill from gamers, which eventually saw the company stepping back from such measures. In this case, though, Take-Two doesn't appear to be stepping back from making sure an example is set for those who make and/or distribute cheats for Rockstar's online games.
Your Daily Blend of Entertainment News
Staff Writer at CinemaBlend.