How U.S. Fans Can Play Assassin's Creed: Odyssey For Free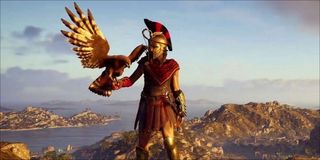 (Image credit: Ubisoft)
Ubisoft's Assassin's Creed: Odyssey was the big third-person, action-adventure game that came out this fall, alongside Rockstar Games' Red Dead Redemption 2. However, only one of those games will allow you to play it for free without having to commit to the $60 purchase.
ComicBook.com is reporting that you can get your hands on Assassin's Creed: Odyssey for free by signing up for the new Google game streaming service. Yes, those of you who sign up to play-test Project Stream will be able to play and stream Ubisoft's open-world, historical-fantasy game for free. All you have to do is go over to the Project Stream sign-up page and register your account to enter for an opportunity to play the game without having to put any money down for it.
There are a limited number of spots, so not everyone is going to get in, and not everyone is going to be accepted. Registering is pretty easy, though. All you have to do is input your e-mail address, plop in a zip code, and confirm that you aren't a robot. Once you do that, click the button to request an invite and you're all good to go.
There are a few requirements, however, before being accepted into the program. For one, you must be a U.S., resident. So if you had plans on getting in on the streaming service while being stationed out of Europe, South America, or heck, even the Arctic, you won't be eligible for participating.
Obviously, you will need a stable broadband internet connection, since Project Stream is streaming based. If your connection is spotty or unreliable, it's likely you won't make it very far in testing the software, much like how OnLive and PlayStation Now requires high-speed connection.
You'll also need a compatible controller or a mouse and keyboard setup, or a mixture of the two. Also, if you have a DualShock 4 or an Xbox One controller, you can just as easily plug them into the USB port and plug-n-play the games.
And lastly, you'll need a Google account, a Ubisoft account, and the latest and most updated version of the Chrome browser.
The Project Stream software runs in the Chrome browser, so you don't need any other fancy software to make it work, and the requirements don't mention anything about system requirements. You will however, have access to the program up until the middle of January in 2019. So you won't be able to play Assassin's Creed: Odyssey for free forever, but you should be able to get in enough time to beat the game.
Streaming services for games have always been an iffy thing, and they don't usually stick around for too long, even when they're just companion devices like the Steam Link.
Game streaming is a very data-expensive endeavor, but Google certainly has the cash to bring this little project to life. Whether or not the company sticks with it is an entirely different story, but you can sign-up for Project Stream right now to check it out.
Staff Writer at CinemaBlend.