John Carpenter Wants To Score A Video Game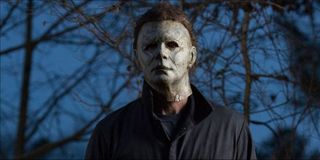 (Image credit: Universal Pictures)
A lot of big name composers have lent their services to a variety of video games, both big and small. Gaming is a multi-billion dollar industry these days, so it's not necessarily scoffed at anymore when it comes to composing music for games. In fact, the legendary horror director John Carpenter wants to score a video game.
In an interview with Consequence of Sound, Carpenter talked about reuniting with the Halloween franchise after decades of being away from the series. His score for the hit blockbuster this past Halloween turned out to be a real big success. However, that's not entirely Carpenter's only passion that he wishes to pursue. He's actually quite interested in diving into video games, telling the outlet after being asked if video games influenced the score for the latest movie:
It's definitely a fascinating prospect to consider because John Carpenter is a self-admitted gamer, and has dabbled in discussing video games multiple times across social media or while giving talks in public. He recently gave a truncated review of Bethesda's Fallout 76, and he never shied away from expressing what he liked and didn't like about 2K Games' BioShock trilogy.
The thing is, I don't think that it's that studios don't want to hire him, I think it's that most studios probably don't know that he's eligible for being hired. I can imagine it's a rather daunting discussion for anyone who isn't an AAA studio to even remotely consider the suggestion of hiring John Carpenter to score a video game. That's not to mention that you have a movie legend working on your game, it's not like you can just throw any game his way and hope he scores something iconic for it.
I also imagine that a lot of AAA studios are still chasing current Hollywood trends, which usually sees them going after Hans Zimmer or Harry Gregson-Williams to provide themes or scores for their games, like Konami's Metal Gear Solid or Activision's Call of Duty franchise.
However, with the advent of AA studios under mid-tier publishers like THQ Nordic, Devolver Digital and Focus Home Interactive, it's very possible some studio working on an innovative, mid-budget game would probably love to have Carpenter provide music and consult on their game. Could you imagine a horror game like Alien: Isolation with Carpenter scoring it? Or how about Call of Cthulhu or The Sinking City? That would be awesome.
For now, though, Carpenter still seems to have a toe in Hollywood while keeping video games within his pastime orbit as a fun hobby rather than a form of work. But who knows, maybe after his interview with Consequence of Sound, a bunch of developers will reach out hoping to get the horror legend to score their game?
Staff Writer at CinemaBlend.
Your Daily Blend of Entertainment News
Thank you for signing up to CinemaBlend. You will receive a verification email shortly.
There was a problem. Please refresh the page and try again.