Super Smash Bros. Ultimate Is Drawing Former Champ Out Of Retirement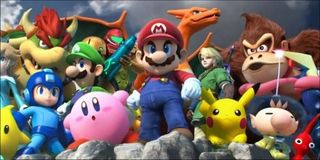 (Image credit: Nintendo)
The Nintendo Switch exclusive Super Smash Bros. Ultimate is all kinds of popular. The game is selling millions since its release, and it has become a global phenomenon right out of the gate. The game has become so hyped that even a former eSports champion decided to come out of retirement to compete.
Polygon is reporting that Gonzalo "ZeRo" Barrios decided to come out of retirement to compete once more after retiring from competition back in January of 2018. The hype and possibilities for Super Smash Bros. Ultimate were too much to ignore, with Barrios telling Polygon...
Barrios became a legend in eSports within a short period of time, getting into the scene when Super Smash Bros. Melee was at an all-time high, but eventually transitioning over to the Wii U version of the game after it released in 2014. He reportedly managed to win 56 consecutive tournaments, becoming one of the most feared and dominate players in the world. After scraping and clawing his way from the bottom, he managed to score a sponsorship with Team SoloMid after winning the Major League Gaming World Finals in 2015.
Barrios hasn't been around the eSports FGC all that long, but within the span of just half a decade he's managed to become a legend within the scene. After having a stellar 2015, things began to fade. Coming up poor living in Chile and trying to make a living playing eSports is no easy feat. The constant travel and late night training sessions began to wear down Barrios' 20-year-old body, and it took a toll on his tournament performance, causing him to consistently lose, which eventually led to him hanging up the gloves at the start of 2018.
Barrios began focusing on a livestreaming career on Twitch, where he has more than 120,000 followers, and gains a decent wage from YouTube and Twitch streams. However, the itch for competition has returned, and Barrios wants to try his hand once more at the competitive Super Smash Bros., scene, telling Polygon...
When Barrios took time off from the competitive scene, he managed to rejuvenate himself by eating healthy, getting proper amounts of sleep, and taking care of his psychological stability. Traveling and competing all the time can really wear a person down both physically and mentally, which is usually why there are off-seasons for most sports.
Now that Barrios is thinking about getting back into the scene, we'll see if taking the year off was just what he needed in order to regain his equilibrium and become a dominate force in the Super Smash Bros., eSports scene once more.
Staff Writer at CinemaBlend.
Your Daily Blend of Entertainment News
Thank you for signing up to CinemaBlend. You will receive a verification email shortly.
There was a problem. Please refresh the page and try again.