Gearbox Responds To Lawsuit Alleging CEO Got A Secret $12M Bonus For Borderlands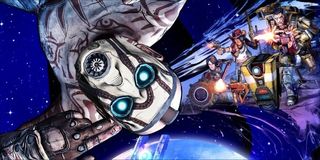 (Image credit: Gearbox Software)
Lawsuits are nasty business. It's no shock that sometimes the nastiest of lawsuits are the ones between former friends, former lovers, or former business partners. That seems quite evident in the multiple suits involving Gearbox and its former counsel. After some wild allegations were made, Gearbox decided to respond and address them head on.
Kotaku has the response from Gearbox's legal team, who took allegations of fiduciary mismanagement from Gearbox president Randy Pitchford rather seriously. The team fired back at the allegations made in the legal documents that were made available to the public. The docs concern the fallout between former Gearbox counsel Wade Callender and Gearbox president Randy Pitchford. The two had been friends for decades.
In the documents, Callender accused Pitchford of misappropriating $12 million in bonus funds that was acquired as a side-deal from Take-Two Interactive during the publishing negotiations for Borderlands. Allegedly, Pitchford had used the funds for his own personal use and entertainment ventures, including throwing lavish parties, according to the documents. The Gearbox legal time denied these allegations, with a representative telling Kotaku...
This all started actually after Gearbox sued Wade Callender, the former lawyer for Gearbox who served on the publisher's payroll from 2010 to 2018. Callender helped negotiate plenty of deals for the company that helped net the company a lot of success between that time.
However, Gearbox suing Wade Callender came from the claims that there was fiduciary malfeasance on his end by using certain funds from Gearbox for his own personal use. Callender, being a lawyer, fired back with a counter-suit against Gearbox, and specifically against the president, Randy Pitchford, making some very serious allegations in the suit, including that there was mismanagement of funds from Pitchford's end.
If it was true that $12 million had been mismanaged, it would be a huge disservice to the actual developers; that would have been enough to make a cool new game, given that it cost Epic Games $10 million to make the original Gears of War. So that either could have been used to make Aliens: Colonial Marines a better game, or a whole new sequel for Brothers In Arms.
Allegations about mismanagement have been ongoing for years, though, dating all the way back to 2013, where there were rumors of mismanagement of funds for Aliens: Colonial Marines, which released as a broken mess, and even had a rather hilarious typo in the Unreal Engine initialization files that completely broke the AI for the xenomorphs.
Gearbox has been coasting along for the last several years, re-releasing some games and publishing others, like We Happy Few. Many gamers are still looking forward to new sequels for popular IP under the company's brand, such as Borderlands 3 and Brothers In Arms. However, at this juncture we may only get those games if the lawsuit doesn't bury the company. For now, Gearbox's legal team have claimed that the allegations made by Callender regarding impropriety hold no merit, and the company's legal team will be fighting the charges to the fullest extent of the law.
Your Daily Blend of Entertainment News
Staff Writer at CinemaBlend.