Battlefield V's Lightning Strikes Update Adds New Weapons, And More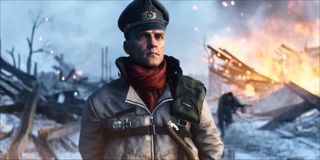 (Image credit: Electronic Arts)
The latest update for Battlefield V has made its way to home console gamers and PC players in the form of Chapter 2: Lightning Strikes. The anticipated update goes live on January 15th, and it will feature all new weapons, challenges, and modes. This update is also a free addition as part of the Tides of War expansion.
The free update will include all new location maps, new weapons, new rewards, and several new vehicles. The update kicks off with the Squad Conquest mode, which is a more intense and compact version of Conquest, which features up to 32 players on the Arras, Rotterdam, and Hamada maps.
Brand new character customization features have also been added to the game. Now, players can outfit their party with even more accessories.
Battlefield V will also introduce four new weapons for the update. Those will include the Zk-383 for those playing as the Medic; a Modele 1944 semi-automatic rifle for the Assault class; an M1922 MMG for the Support class; and the Mk. III bolt-action rifle for the Recon (or sniper).
Gamers will also be able to play-test these new weapons in the new Grand Operation campaign called the Battle of Hannut, taking place across both French and Belgian countrysides. That will be available within Chapter 2. The Rush Mode will also make its appearance for the first time in Battlefield V's Grand Operation, along with improved time-to-death and death experiences being overhauled for the latest update.
If that wasn't enough, additional Battlefield V content is set to drop for Chapter 2 throughout February. One such example is the Combined Arms mode, which is a co-op mode focused on a single objective across eight missions.
Electronic Arts and DICE also gave gamers a hint at what they can expect from future additions set to drop in March with the Firestorm update. The content is teased in a new trailer posted up over on the Battlefield YouTube channel, which recently went live. The preview overviews the new features that have been added in the Lightning Strikes update, which will roll out from January 15th up through February.
While fans might be excited about the return of the Rush Mode, it's noted in the press release that it'll only be available for a limited time in March. It's not stated exactly how limited that window is, or if it will periodically come back, but we do know the mode will be made available on select maps, including Twisted Steel, Narvik, and Devastation. Also, the trailer sadly doesn't showcase the Battle Royale mode, but that's also supposed to be coming in March.
Between Lightning Strikes and Firestorm, there will also be additional Tank Hunter vehicles added to Battlefield V, but there's no specific date on when those vehicles will become available. It does sound like they may release closer to February.
The World War II shooter got off to a rough start when it launched in the fall of last year, but DICE and EA seem to be sticking with the game and rolling out new updates at a regular clip. Stay tuned for more updates!
Your Daily Blend of Entertainment News
Staff Writer at CinemaBlend.