Super Smash Bros. Ultimate Set A New Record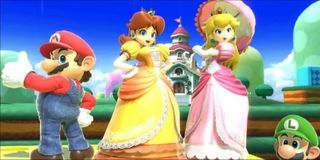 (Image credit: Nintendo)
Nintendo's Switch exclusive, Super Smash Bros. Ultimate, has managed to set a sales record for the company since releasing in December of 2018. Given how big a game it is and how much people have been clamoring to get their hands on it, it's not a complete shocker given the hype surrounding the game.
The news about the record being broken came courtesy of NPD Group analyst Mat Piscatella, who posted the news on his official Twitter account, and revealed that Super Smash Bros. Ultimate set a launch month dollar sales record as a platform exclusive, managing to oust the previous king of the throne, which was none other than Microsoft and Bungie's Halo: Reach for the Xbox 360 from back in 2010.
Can you believe that? That Halo: Reach had managed to hold on to that title for so long and defend it for nearly a decade?
That, in a way, speaks volumes to the symbiotic relationship that Bungie and Microsoft had when it came to building out the Halo franchise and the quality of games that the developer used to make back when it was under Microsoft's publishing wing. Now that Bungie is out from under Activision and has full control over the Destiny franchise, I'm curious if the company will get back to making record-breaking games like back when Bungie was producing content for the Xbox 360?
As for Super Smash Bros. Ultimate, the game didn't just manage to break sales during the month of December, it also managed to land a spot as one of the top 5 best selling games of 2018, coming up just shy behind some of the other heavy hitters released throughout the year, including Rockstar's Red Dead Redemption 2 and Treyarch's Call of Duty: Black Ops 4.
According to Piscatella, the game has exceeded all other previous outings of Super Smash Bros. games, including Brawl for the Wii U and 3DS by over 70%.
And, even though Super Smash Bros. Ultimate wasn't the top-selling game of 2018, it was most definitely the top-selling game within the U.S. in December, managing to best aforementioned heavyweights such as Call of Duty, Red Dead Redemption 2, and Battlefield V.
In combination with other worthwhile exclusives on the Nintendo Switch, such as Mario Kart 8: Deluxe, The Legend of Zelda: Breath of the Wild, Mario Tennis Aces and Super Smash Bros. Ultimate, they all helped Nintendo to generate the highest software revenue as a publisher since 2009, along with generating the most hardware dollar sales and moving the most units for a single platform since December, 2010. So, Nintendo is back in the black, making money and generating hype as if it were the Wii era all over again. Basically, it proves that the Switch's success in 2017 wasn't a fluke or a fad.
The Big N is sometimes down for the fight with certain outings, but the company is never out. And, with the Switch's success it looks like Nintendo is aiming to climb back to the top of the console market mountain, and it's doing so with the help of blockbuster first-party exclusives like Super Smash Bros. Ultimate.
Staff Writer at CinemaBlend.
Your Daily Blend of Entertainment News
Thank you for signing up to CinemaBlend. You will receive a verification email shortly.
There was a problem. Please refresh the page and try again.