The PlayStation Store Is Having A Christmas Flash Sale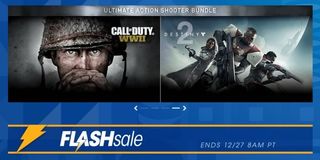 (Image credit: Sony)
Sony is celebrating Christmas with a Christmas flash sale for PlayStation gamers. If you have a PS3, PS4, or PlayStation Vita, you can get in on the holiday sale that will go from this weekend all the way to December 27th, 2017 near the end of the month.
The flash sale is currently going on over on the PlayStation Store, where Sony decided to break down the sales via category. So if you want a specific game for a specific console, you can grab it by heading to the site and clicking on the platform tab at the top of the screen. There are currently 51 items on sale for the PS4, three items on sale for PS3, and four different discounts for the PlayStation Network.
Of course, what good is a sale unless you know what's on sale? Well, a lot of recently released games are discounted heavily, including Ubisoft's recent fall release of Assassin's Creed: Origins, which is marked down by 33% off. The markdown applies to three different versions of the game, including the normal version, the deluxe edition and the gold bundle.
And speaking of Ubisoft, South Park: The Fractured but Whole is discounted by 50% off, even though it just launched back in October. The game is available for the PS4 for only $29.99. You can also get the gold version for half off as well.
Activision's Call of Duty: WWII is also marked down, along with Destiny 2. In fact, both of Activision's titles are bundled together where you can save 35% off and get them for only $77.99 in the bundle pack. Alternatively, there's a digital deluxe bundle pack containing both games that's 30% off for $139.99. The standard bundle pack definitely seems like the better deal, since you get both new games for for just $18 more than buying either one for brand new from a retailer.
Atlus' Persona 5 is also marked down -- in fact there are four different versions of the game that you can get for between 34% and 36% off the normal price, so you can pay as little as $32.99 or as much as $79.99 for the standard versions or the ultimate editions.
On the adventure game front, Rockstar's L.A. Noire is marked down by 25% off, while Telltale's Batman: The Enemy Within and Deck Nine's Life Is Strange: before The Storm are also discounted as well.
If you're more-so into sports games, EA Sports and 2K Games annual sports titles are also marked down, including multiple versions of Madden NFL 18 and NBA 2K18. If you're a soccer fan, then you can grab a digital copy of FIFA 18 with the all new story mode for 50% off at only $29.99. Racing fans will also get their fill with Gran Turismo Sport and F1 2017.
If you're more-so into fighting or wrestling games, WWE 2K18 is 60% off for only $35.99, and Capcom's Street Fighter V: Deluxe Edition is 60% off, making it only $31.99.
As mentioned at the top of the article, you'll only have until December 27th to get in on the deals so work fast.
Your Daily Blend of Entertainment News
Staff Writer at CinemaBlend.