Spider-Man's Final DLC Brings Back Silver Sable, Includes Into The Spider-Verse Costume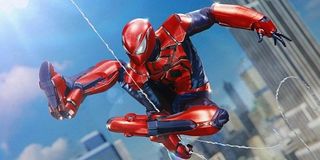 Insomniac's high-flying adventure, Marvel's Spider-Man, is set to spin a new yarn as the third and final chapter of the DLC event, The City that Never Sleeps, gets a launch date of Dec. 21. The DLC is called "Silver Lining" and, as you might have guessed from the name, Silver Sable will be making a return appearance. Also included is a costume from Into the Spider-Verse, which opens in theaters this week.
As outlined over on the PlayStation Blog, this third and final chapter in the ongoing DLC story arc for Marvel's Spider-Man just in time for the holidays. Whereas the DLC trilogy started with a hunt for Black Cat and continued with an attack on the Maggia, now Spidey needs to help Silver Sable get her weapons back from the infamous Hammerhead.
According to Game Director Ryan Smith, the team at Insomniac had a lot of fun working Silver Sable into the campaign and wanted to spend some more time with the character. As a result, they've given her a reason to return to New York and plenty of motivation to be mad at our wall-crawling hero. Based on the trailer, it looks like she holds Spider-Man responsible for Hammerhead's unobstructed thefts, so this might be a situation where Spidey needs to first shake a few punches from Sable before going after the big bad.
As with the previous DLC, the new story missions are only part of the package, as Silver Lining boasts new and upgraded enemies and crime types, and there will also be some Hammerhead bases to locate and disarm. And alongside the usual dose of new Trophies and challenges, a trio of new suits will be up for grabs.
In partnership with Sony Pictures and in celebration of the film opening this week, the first suit is the one worn by Peter Parker in Spider-Man: Into the Spider-verse. Sadly, it does not appear Spider-Ham will be making the cut. Still, the included Cyborg Spider-Man and Aaron Aikman Spider-Armor suits are pretty cool in their own right. The Cyborg suit is from a pretty cool crossover story arc featuring Cable, while the Spider-Armor is from an alternate timeline tale featuring a scientist who spliced his DNA with that of a spider and then decided to build a sweet suit of armor to give himself even more turbo-charged powers.
As a reminder, you can pick up Silver Lining for your copy of Spider-Man all by its lonesome for $9.99. If you'd rather snag all three chapters of DLC, that'll set you back $24.99. Or, if you haven't picked up the game yet, you can get Spider-Man and all of the DLC in the Digital Deluxe Edition of the game for $79.99.
As an added bonus, if you decide to pre-order Into the Spider-Verse from the PlayStation Store, you'll get a voucher for Silver Lining at no extra charge, plus a dynamic them and a collection of Avatars for your PlayStation profile.
Staff Writer for CinemaBlend.
Your Daily Blend of Entertainment News
Thank you for signing up to CinemaBlend. You will receive a verification email shortly.
There was a problem. Please refresh the page and try again.