3DS Gets Bundled With Mario Kart 7 This Weekend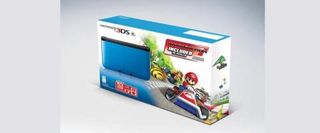 The holiday season is always a great time to pick up a new gaming console and, in case you've had your eye on the Nintendo 3DS XL, the Big N has decided to offer a special bundle including the game and a free copy of Mario Kart 7.
The Christmas season is known for offering big discounts on gaming devices. If you missed out on all of the big Black Friday and Cyber Monday sales, however, you still have the opportunity to pick up Nintendo's latest handheld at a discounted price.
Starting Dec. 4, a limited edition blue/black Nintendo 3DS will be packaged with a copy of Mario Kart 7 already pre-installed on the system. The entire package comes in at $199.99, a savings of about 40 bucks if you were to purchase the two items separately.
While the console's software offerings are identical to the regular 3DS, the 3DS XL offers screens that are 90 percent larger. For adults with larger hands or a desire to feel like you're staring at a 72-inch 3D TV right in front of your face, all of that extra real-estate will come in quite handy.
The latest in a long line of Nintendo-themed racers, Mario Kart 7 offers all of the mascots, karts, tracks and modes you would expect from the series, as well as vehicles that can now traverse long gaps with a flying ability or dive underwater with a propeller.
Look for the both the console and the game to be bundled together for $200 starting Dec. 2.
Staff Writer for CinemaBlend.
Your Daily Blend of Entertainment News
Thank you for signing up to CinemaBlend. You will receive a verification email shortly.
There was a problem. Please refresh the page and try again.