3DS Getting $80 Price Cut In August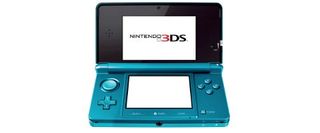 Nintendo announced today that they plan to slash the price of their new Nintendo 3DS. The $249.99 launch price will be reduced to $169.99 in the United States starting August 12th.
"For anyone who was on the fence about buying a Nintendo 3DS, this is a huge motivation to buy now," said Nintendo of America President Reggie Fils-Aime. "We are giving shoppers every incentive to pick up a Nintendo 3DS, from an amazing new price to a rapid-fire succession of great games."
Nintendo is hoping that the fall line-up of 3DS releases will be added incentive to purchase the handheld. Star Fox 3D will debut on September 9th. Super Mario 3D Land and Mario Kart 7 are due in November and December, respectively. Kid Icarus: Uprising is expected sometime during the holiday season as well.
Did people who bought the 3DS at launch get screwed? Not exactly. All of these early adopters will be automatically enrolled in the Nintendo 3DS Ambassador program. Members of this program will get twenty downloadable games for free. Starting September 1st, they'll be able to download 10 NES Virtual Console games through the Nintendo eShop, including Super Mario Bros. and Legend of Zelda, before they're released to the public. By the end of the year, Ambassadors will get 10 Game Boy Advance Virtual Console games. These games, which include Mario Kart: Super Circuit and Metroid Fusion, won't be released on the 3DS for the public.
In order to join the Ambassador program, you need to connect your 3DS to the Nintendo eShop at least once before 11:59 p.m. EST on August 11th.
Staff Writer at CinemaBlend.
Your Daily Blend of Entertainment News
Thank you for signing up to CinemaBlend. You will receive a verification email shortly.
There was a problem. Please refresh the page and try again.