Allods Online Anniversary Gives Every Player Free Wolf Mount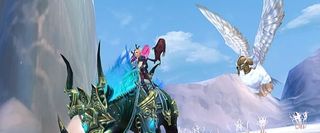 Wolf mounts in Allods Online creates a lot of envy...everyone wants to ride a fearsome, badass wolf. Well, now everyone will get a chance to ride a fearsom, badass wolf because gPotato will be giving away free wolf mounts to North American and European gamers to celebrate the Allods Online anniversary.
Of course, the free wolf will just be an incentive to stick around for the next major content update patch due out soon for both European and North American gamers. The press release briefly details what gamers can look forward to...
Allods Online is a good World of Warcraft clone. It's slowly building up a sizeable amount of expansive content and the Astral space really creates a whole other kind of player-engagement level to both extend the game's fun-factors and expand on the replay values.
As for that free wolf mount...just be sure to log into the game before May is out to start riding your wolf in style. The next big content update is scheduled to launch on May 30th, and will bring with it a host of additional new features, maps, areas, monsters and goodies.
If you don't mind investing a lot of time and effort into building up a clan and an Astral ship, then Allods Online wouldn't be a bad game to dip your toes into. For more info on this free-to-play MMORPG from Astrum Nival, feel free to visit the Official Website.
Staff Writer at CinemaBlend.
Your Daily Blend of Entertainment News
Thank you for signing up to CinemaBlend. You will receive a verification email shortly.
There was a problem. Please refresh the page and try again.