Arma 3 Beta Deploys June 25th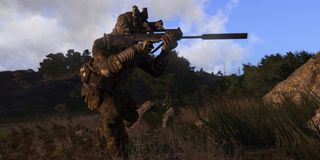 Soldiers interested in getting a taste of the Arma 3 experience before it goes live have an opportunity to join in on the upcoming beta, which has been given an official launch date of June 25th.
Arma 3 is a massive military FPS set in Stratis, a map measuring 20 square kilometers in size. While the alpha stage of the game is wrapping up, developer Bohemia Interactive has announced that the upcoming beta will come with loads of new content, including 10 vehicles, seven weapons, two multiplayer scenarios, four challenges and four showcase missions including Combined Arms, Supports, Commanding and Night.
In addition to that, players will finally have access to the Challenges game mode, which features multiple carefully crafted firing drills to help players get familiar with their new equipment. And, just like in the beta, the scenario editor and modding support will also be included, so this means that anyone out there trying to re-create all the intensity of DayZ mods as well as the other growing mod of great popularity known as Wasteland, a post-apocalyptic, role-playing type game mode that shares a lot of similarity to the now defunct S.T.A.L.K.E.R. series.
"Having just showed off the beta for Arma 3 at E3 2013, we are keen to get it into gamers' hands quickly," said Project Lead Joris-Jan van 't Land. "Bringing some heavy firepower and additional transport options will allow for more diverse scenarios in both single player and multiplayer. We also can't wait to open up the Steam Workshop scenario publication, which will make content-sharing with other players much more convenient."
Anyone already taking part in the Arma 3 alpha will be automatically added to the beta with a simple client update. Anyone else interested in joining the beta can do so by purchasing the game on Steam. Buying the game automatically gets you in the beta, so you'll be ready to roll once the June 25 launch rolls around.
Between now and June 25, the alpha price will still be in effect, costing $32.99 for the regular version and $49.99 for the Deluxe Edition. After that, the game/beta will be available for its regular price of $44.99 and $59.99 respectively.
Staff Writer for CinemaBlend.
Your Daily Blend of Entertainment News
Thank you for signing up to CinemaBlend. You will receive a verification email shortly.
There was a problem. Please refresh the page and try again.