Batman: Arkham Knight, Witcher 3 Now Free With These Video Cards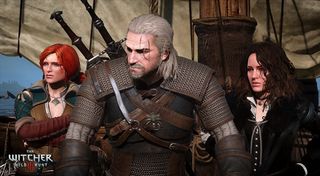 Nvidia has a deal you almost can't refuse if you're considering upgrading your GPU with something bigger and beefier for today's generation of high-end games. The Geforce GTX 980 and GTX 970 both come with Batman: Arkham Knight and The Witcher 3: Wild Hunt... for free.
Eurogamer spotted the announcement that was made over on the official Geforce website, where Nvidia announced that participating retailers and e-tailers will be offering free download codes to both The Witcher 3: Wild Hunt from CD Projekt Red and Batman: Arkham Knight from Rocksteady Studios as part of a "Two Times The Adventure" offer for select Geforce GTX 900 series cards.
In fact, if you get the Geforce GTX 970 or GTX 980 you will be eligible for getting both the aforementioned games for free. Alternatively, if you get the Geforce GTX 970M, GTX 980M or GTX 960, you will be able to retrieve a free game code of The Witcher 3. Sadly, the other three cards do not come with Batman: Arkham Knight.
There are a few key features added to both games that increase their fidelity, including HBAO+ for increased character shadow resolution, as well as the hairworks physics systems exclusive to Nvidia cards. Quite naturally PhysX also makes an appearance as another feature exclusive to the GTX brand that will play a role in the visual presentation of >The Witcher 3 and Batman: Arkham Knight.
But it's not all about The Witcher 3's specialized graphics features. Batman: Arkham Knight will have a full suite of Nvidia GameWorks support, including PhysX destruction, advanced cloth physics and the PhysX turbulence technologies. This includes more realistic fog, ice and volumetric smoke effects. Some of these features were present in previous Batman outings under the Rocksteady label, including the advanced cloth simulation effects for Batman: Arkham City and liquid/water effects that helped bring the game's comic book world to life. However, for Arkham Knight the features are being ramped up even more.
Both games, The Witcher 3 and Batman: Arkham Knight, have been hailed for their unprecedented graphical presentations. In the case of the former we are seeing a true open world experience designed specifically with the eighth-generation of gaming in mind. For the latter, Rocksteady wants their swan song for their take on the Batman property to be an expansive, gritty, dark, visually mesmerizing and equally stunning take on the popular hero.
The Witcher 3: Wild Hunt is set for release on May 19th while Batman: Arkham Knight is due for release on June 23rd. You can get in on the bundle deal for both games by checking out Nvidia's page listing the retailers and e-tailers participating in the bundle.
Remember, there are game codes included in the bundle not actual physical copies, and only certain retailers are even offering anything when purchasing the GTX 980 and GTX 970, the latter of which was involved in the recent VRAM scandal. So you'll definitely want to read up on all the details involving the bundle for both games being included with the card so you don't find yourself buying one of the supposed bundle packages and finding out the games aren't included.
Staff Writer at CinemaBlend.
Your Daily Blend of Entertainment News
Thank you for signing up to CinemaBlend. You will receive a verification email shortly.
There was a problem. Please refresh the page and try again.