Bethesda Announces They Are Working On More Than Just Fallout DLC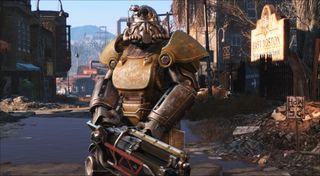 Bethesda has three new long-term projects in the making and they have nothing to do with the Fallout 4 DLC or season pass. In fact, these new projects won't be revealed until a future date (likely at E3 later this year) but it's stated that it's unlike anything they've done in the past.
PC Gamer picked up the quotes from Fallout 4 game director Todd Howard, who spoke about Bethesda's plans at this year's D.I.C.E. summit in Las Vegas, Nevada. According to Howard the team is busy with three large-scale projects that they will unveil at some point down the road...
So "Bethesda-style" usually refers to open-world, character customization, and lots of different gameplay options driven by player choice. Those are all staples of Bethesda's design for their games.
Of course, pinning down some kind of exact details on what the new games or projects might be is a wild shot in the dark. It could be design tools – maybe Bethesda is getting into design applications to help modders create their own projects and make their own games using similar tools that Bethesda uses. Maybe they have plans on using those tools to license out, so gamers can make their own games and then publish them in the public space and Bethesda gets a cut of whatever profits they make. As ludicrous as that might sound to some people, it's exactly what Unity Technologies, Epic Games and Amazon are doing right now with the Unity 3D engine, the Unreal Engine and the Lumberyard.
Licensing can be big business if you play the cards right.
Some gamers are anticipating a new Elder Scrolls entry. The last game in the series was Elder Scrolls V: Skyrim, which came out back in the fall of 2011. This fall would mark five years since the release of the last game, and that almost seems like enough time for Bethesda to have upped the ante and worked out something special for the open-world RPG.
Some people are arguing that the five year span may not count in the case of Skyrim because they released the Elder Scrolls Online, so maybe it isn't time for a new Elder Scrolls game. Some people have argued otherwise, stating that the MMORPG doesn't count as a canonical entry in the long running series. Everyone has an opinion, but no one knows who's right.
The projects could be something completely unrelated to past games or design tools – they could be three new games in three new genres. Some commenters on PC Gamer suggested that it might be a cyberpunk game given the popularity that follows CD Projekt Red's Cyberpunk 2077. Others hint at a new stealth open-world title, but they already have Dishonored 2 filling that niche. Some point to something completely outside of Bethesda's safe zone, but that would mean something along the lines of a military shooter or sprite-based cRPG. The thing is... nobody knows.
We'll likely find out more about these three new projects when E3, 2016 comes around. In the meantime there's some new Fallout 4 DLC set to arrive in March.
Your Daily Blend of Entertainment News
Staff Writer at CinemaBlend.
Your Daily Blend of Entertainment News
Thank you for signing up to CinemaBlend. You will receive a verification email shortly.
There was a problem. Please refresh the page and try again.