BioShock Infinite Launch Date Delayed To March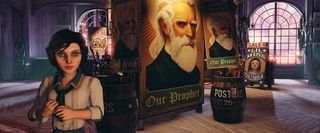 Irrational Games' BioShock Infinite has suffered another delay. The developer revealed today that they've been forced to push the game's release date further into 2013.
Originally Infinite was scheduled for an October 2012 debut. However, it was delayed to February 26th because Irrational had "uncovered opportunities" to make the game "even more extraordinary." Everyone assumed they meant they were adding multiplayer, but Irrational later confirmed they aren't.
This latest delay, which pushes the launch date to March 26th, is due to concerns about polish and bug concerns. Rod Fergusson, the former Gears of War producer who joined Irrational this summer, was instrumental in the decision.
"He was there for about a month and he said, 'Look, I've been looking at the schedule and looking at the game and frankly you could really benefit from another three or four more weeks for polish and bug fixing,'" Irrational creative director Ken Levine said at a press event.
Levine added that ultimately no one remembers delays if the game turns out to be good. There's no arguing with that. I mean, no one's going to refuse to play a game because they had to wait longer than they originally expected. Nonetheless, a delay is always shitty - especially with a game as highly anticipated as Infinite.
Fans can at least look forward to seeing a lot more of the game today. A new batch of screenshots are below. Furthermore, brand new trailer will air at the Spike VGAs tonight.
Staff Writer at CinemaBlend.
Your Daily Blend of Entertainment News
Thank you for signing up to CinemaBlend. You will receive a verification email shortly.
There was a problem. Please refresh the page and try again.