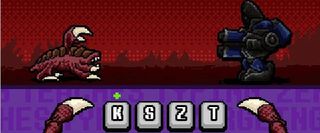 Did you know that Blizzard Entertainment is making a foray into educational kids' games? Well, they're not. However, a new "Blizzard Kidzz" site they launched today for April Fool's Day gives us a look at what their educational games would be like.
"Blizzard Entertainment is proud to announce a new line of videogames set to capture the imagination of a whole new generation of gamers," says the site. "Designed for a young audience, Blizzard Kidzz games strive to present children with not just the most epic, but also the most educational gaming experiences... ever."
The flagship title for Blizzard Kidzz is Zergling Teaches Typing. In this game, kids take on the role of the littlest member of the Swarm and try to boost their words per minute. In the process, they'll learn how to spell important Zerg words like "Skzzzt!" and "Brnnchh!"
Blizzard also unveiled five other kids' games today. In Westfall Trail, players lead a party of settlers from Lordaeron to Westfall and try not to die of dysentery. Where In Sanctuary is Deckard Cain, meanwhile, is a globe-trotting hunt for everyone's favorite Horadric monk.
The Blizzard Kiddz site has screenshots and details on all of the parody games. It also has a playable demo of Zergling Teaches Typing that should not be missed.
Your Daily Blend of Entertainment News
Staff Writer at CinemaBlend.