Bloodborne Will Get An Expansion Pack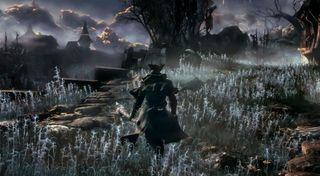 Gamers who have been enjoying Bloodborne will be able to enjoy some new content for the game sometime down the line. Sony and From Software have plans to unleash some new DLC for Bloodborne, as confirmed by the president of worldwide studios at Sony Computer Entertainment, Shuhei Yoshida.
Game Informer spotted the tweet from Shuhei Yoshida, who made it known on Twitter that new content would be arriving for the Gothic-themed, hack-and-slash action game that released earlier this year for the PS4.
Interestingly enough, Yoshida says it's an "expansion" and not "DLC". Not that it makes too much of a difference, but usually when the word "expansion" is used it signifies a significant amount of content on the way as opposed to the popcorn content offered by some developers and publishers in the form of micro-expansions. A good example of a micro-expansion are the multiplayer maps or zombie DLC for games like Battlefield or Call of Duty; a couple of new guns, a few new maps and some balance tweaks.
In this case, if Bloodborne is actually going to be on the receiving end of some substantial new content that constitutes as a legitimate "expansion pack" then I think many fans and owners of the game will be absolutely thrilled.
The Game Informer article drops hints that we might see something unleashed during E3, but according to Yoshida it sounds like nothing is dropping until later this year. If the new content was receiving an info bomb at this year's E3 wouldn't Yoshida have simply said "More info in a couple of weeks"? Later this year sounds more like something closer to the likes of GamesCom or maybe the Tokyo Game Show.
Of course, it's still completely possible that From Software could drop some hints about the new expansion for Bloodborne at E3. A teaser trailer or a shot of the new content just might be enough to whet the appetites of gamers.
Hopefully they don't want to too late because by the time GamesCom circles around the question becomes: how many owners of Bloodborne still own the game and would be interested in a brand new expansion for the game? If the game retains its playerbase in the same way that GTA V or Skyrim does then they won't have any problems waiting until August to drop more details on the DLC. However, if the drop-off rate is consistent or steep, it might be best to hook gamers with the promise of something as soon as this year's upcoming E3.
Bloodborne has already been a pretty decent success for the PS4, garnering a solid following and managing to win over the hearts of critics and gamers alike. The PS4 exclusive also manages to stay in the news frequently with funny glitches and new player experiences rounding out the news. You can learn more about the game by paying a visit to the official website.
Your Daily Blend of Entertainment News
Staff Writer at CinemaBlend.